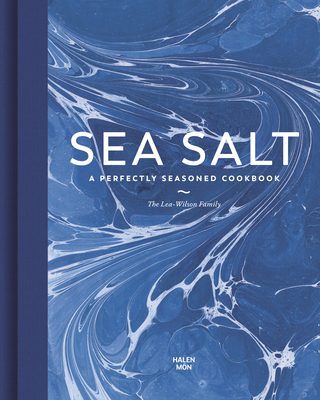 Sea Salt
A Perfectly Seasoned Cookbook
Hardcover

* Individual store prices may vary.
Description
TAKING FLAVOUR FROM ORDINARY TO EXTRAORDINARY

After 20 years of making an award-winning sea salt the Lea-Wilson family have put together a collection of recipes on how to showcase this often misunderstood and misused ingredient.

A core part of cooking, correct seasoning is what separates a good meal from a great one. It isn't a simple case of how much is used but when these salty crystals are used: at the beginning of meal prep to help sunny tomatoes sing; dusting your meat just before cooking to help the salty char form and the meat stay juicy; or right at the very end scattered over a chocolate torte to make it all the more chocolate-y. And where would we be without the perfect combination of delicate sea salt and caramel?

Just as crucial is how sea salt is used: as a brine, cure, key component in pickle or in flora and fauna kissed by the sea.

Covering the basics from low-fuss 'cooking' with raw ingredients in simple salads and the perfect salted butter, to salty snacks and comfort food for rainy days. As well as providing a masterclass in seasoning with spectacular dishes from seafood cooked over fire, a Reuben sandwich from scratch or even the perfect fritto misto that will keep you coming back for more. Not forgetting some perfectly balanced drinks with a hint of sea salt to enhance their flavour.

These recipes from the Anglesey-based family will help alter how you use salt in all aspects of your cooking, making it work harder and bring better seasoned dishes to your table.
White Lion Publishing, 9780711265745, 240pp.
Publication Date: May 3, 2022
About the Author
The Lea-Wilson's lives have centred around sea salt – making it, perfecting it and travelling the world selling it – for over twenty years. They made their first batch from the sparkling seas around Anglesey, an island off North Wales, in a saucepan on an old Aga in 1997. Halen Môn (Anglesey Salt), was born.

Nowadays, their pans may be a little bigger, but their ethos and provenance remain the same. Their commitment to the craft has earned them Protected Designation of Origin status. They supply home cooks and Michelin-starred chefs the world over, have seasoned Barack Obama's favourite caramels and are a named ingredient in a variety of products from Pipers Crisps to Green and Black's chocolate. 

It is a love of both the island of Anglesey and the pleasure of good food that spurs the family-run company forward, and their range of award-winning, flavourful condiments and seasonings is expanding to evermore delicious heights.