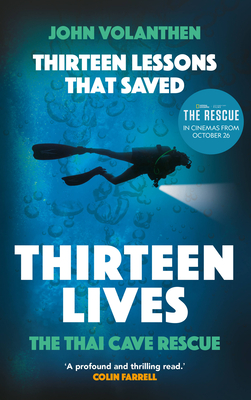 Thirteen Lessons that Saved Thirteen Lives
The Thai Cave Rescue
Hardcover

* Individual store prices may vary.
Other Editions of This Title:
Paperback (3/8/2022)
Description
Bristol, UK
Praise For Thirteen Lessons that Saved Thirteen Lives: The Thai Cave Rescue…
'In his new book, Thirteen Lessons That Saved Thirteen Lives, John reveals the nail-biting moments that left him preparing for the worst - from sedating the boys with ketamine to the exhausting swim for survival…He tells of the operation in heart-stopping detail, while also sharing the coping techniques he employed which can be used in everyday life.'
DAILY MIRROR
 

"Thirteen Lives is a case study in courage and volunteerism – the courage of those who were trapped, of the divers, of the officials and of the locals who all came together to overcome insurmountable odds while the world watched."
Ron Howard, Oscar-winning director of Apollo 13 

"In our filmmaking, we have been drawn to stories of people who have accomplished extraordinary, impossible things. What you [John Volanthen] were able to do in Thailand feels like a natural continuation of that focus; it is what attracted us to want to tell the story of the rescue. This is one of the great stories of our time. "
Chai Varsarheylyi, Oscar-winning co-director of Free Solo

'John's involvement in one of the most Herculean rescue efforts ever makes him a perfect guide for readers. His insights are riveting. The suspense and emotion are palpable. It's a powerful story written by a hero who lived it.'—RON HOWARD, Oscar-winning director of Apollo 13, Twitter
Aurum Press, 9780711266094, 304pp.
Publication Date: July 13, 2021
About the Author
John Volanthen began caving with the scouts at the age of 14 and is now a world record–holding British cave diver who has been at the forefront of underground rescue and exploration for over twenty years. Best known as the first diver to locate and contact the missing youth Thai soccer team with his diving partner Rick Stanton, he also planned and participated in the children's rescue, carrying three children to safety. John has been involved in search, rescue and recovery operations as well as mapping caves worldwide. His many awards include the British and Commonwealth George Medal, Royal Humane Society Bronze medal and Scientific Exploration Society Pioneer with Purpose.

With a background in medical electronics, John has invented underwater mapping devices, communications systems and state of the art, micro rebreathers, allowing divers to stay underwater longer than was previously possible. In 2005 at Wookey Hole in Somerset,  Volanthen and Stanton advanced the British cave diving depth record to 90 m (295 ft). As part of an international team, he set a world record for the longest cave dive from the surface, reaching 10k m (33,000 ft) in the Pozo Azul cave system in the Rudrón Valley in Spain. John lives in Bristol and continues to explore and document underwater caves throughout the world. He is always on standby for the next rescue.