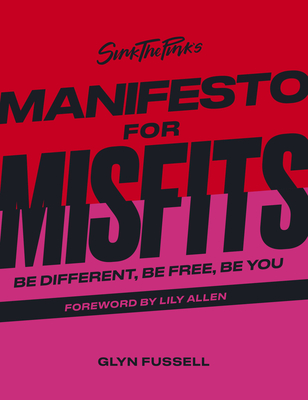 Sink the Pink's Manifesto for Misfits
Be Different, Be Free, Be You
Hardcover

* Individual store prices may vary.
Description
An empowering, joyous and colourful guide to being a proud misfit, designed for and dedicated to anyone who doesn't "fit in".

Don't fit in? The Manifesto for Misfits will help you find your tribe and yourself. Join a brave and proud community of eccentrics, freaks, geeks, rebels and oddballs worldwide.

Follow witty commandments, work through personal development exercises, take strength in stories of becoming, and learn to love who you really are.

Filled with anecdotes, letters and opinionated thinkpieces from the Sink the Pink collective, queens, celebrities and fans including Sam Smith and Mel C from the Spice Girls, this title is the complete guide on how to be proudly yourself.

Sink the Pink is the largest LGBTQ+ collective in the UK, continuously challenging the status quo and freedom of expression. Their events offer a portal to another world where anything is possible and everyone is welcome. Here, they put their message and experience into book form.

Prepare to be fully immersed in joy, colour and love with this inclusive and perspective-shifting book: learn how to harness your uniqueness and remind yourself that you are not alone.
Praise For Sink the Pink's Manifesto for Misfits: Be Different, Be Free, Be You…
I love this book! Its vibrant and jumps off the page at you!—Fearne Cotton

For as many people that hated me there are people that love me for being different, I've made a career out of that. I love making people happy and this book will bring people so much joy and peace of mind in a mixed up world.—Amanda Lepore

I am so glad this book exists! Finally a fun read for all the weirdos in the playground - I wish this book was out when I was younger, It would have changed my life!—Jodie Harsh

"This book brought me back to the kid I was so many years ago.  It would have fit perfectly in my backpack, the pages poured over and marked up with a ballpoint pen, as I ran around and threw everything at the wall to see what stuck. The funny thing is, everything in here still applies to my life now. Glyn has created a springboard of possibility and inspiration for those of us who can't help but be ourselves: high-kicking and tap-dancing for no other reason other than it makes us feel good. It's a potent fruit-punch of a guide that didn't really exist. Now that it does, it will be a blessing for so many that didn't even realize they needed it until it's in their hands."—Jake Shears, lead singer of Scissor Sisters

Woah this book is so engaging and very special, I'm so proud of my friend Glyn. You will love this book.—Jess Glynne, Singer / Songwriter
White Lion Publishing, 9780711267794, 176pp.
Publication Date: June 28, 2022
About the Author
Over the last ten years, Glyn Fussell has cemented himself as the King of the UK club scene. It all started over a decade ago when he and his best friend came up with the idea of what made the perfect night out. And so the cultural phenomenon Sink the Pink was born, one of the biggest, most innovative nights out in the UK.

Sink the Pink is the largest LGBTQ+ collective in the UK, continuously challenging the status quo and freedom of expression through mind-blowing events. They are the antidote to sameness in all areas of life. At Sink the Pink everyone is welcome and everyone is celebrated.Their events sell out in a matter of hours and press and celebrities alike love them. Their charity work extends to Mermaids, Stonewall and Cool Earth.