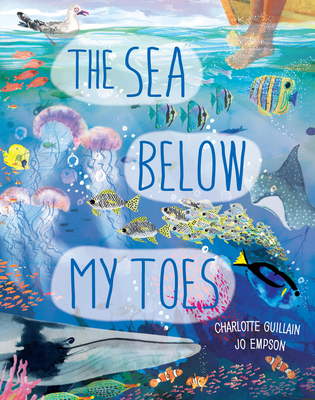 The Sea Below My Toes (Look Closer)
Hardcover

* Individual store prices may vary.
Description
From the Look Closer series, this richly illustrated concertina book takes you on a journey through the deep dark waters, all the way down to the seabed, before floating back up to the surface.

A follow-up to The Street Beneath My Feet, The Skies Above My Eyes and The World Around Me, this visually stunning book ventures to the very bottom of the sea on a journey of discovery.

Through the waves and into the deep, you'll spot all kinds of weird and wonderful marine creatures, explore the seabed and discover the impact humans have had on the underwater world. 

As you dive below the surface, past sea otters playing in fields of giant kelp, you will see sea lions and shoals of mackerel playing in the shallows, before passing orcas hunting in pods in the deeper water.

As well as animals, discover the technology which is used under the sea, from scuba breathing apparatus to oil pipelines and deep sea submarines.

As you reach the very bottom of the sea, the 'twilight zone' where very little light can filter through, you will meet the mysterious creatures of the deep such as Lanternfish and the luminous swell shark.

This book is part of the Look Closer series, a set of concertina books which help teach us about the mysteries which can be found in the world around us.
Praise For The Sea Below My Toes (Look Closer)…
"An investigation into what goes on in beneath the surface of the sea. Published in concertina format."—The Bookseller

"A picture book in concertina format that illustrates the ocean's stronger-than-fiction creatures may make children never want to swim again, but the daring will want to explore - and read the amazing facts aloud."—The Sunday Times - One To Watch Out For
QEB Publishing, 9780711271920, 20pp.
Publication Date: July 5, 2022
About the Author
Charlotte Guillain lives in Oxfordshire, UK. She writes fiction and non-fiction for children, including the picture book Spaghetti with the Yeti, which was shortlisted for Oscar's First Book Prize 2014 and has featured in CBeebies Bedtime Stories. The Street Beneath My Feet, Charlotte's first title for words & pictures, was shortlisted for the UKLA Book Awards 2018 and named an ALSC Notable Children's Book 2018 in the All Ages category, as well as being selected by the Guardian as one of 15 'modern classics'.