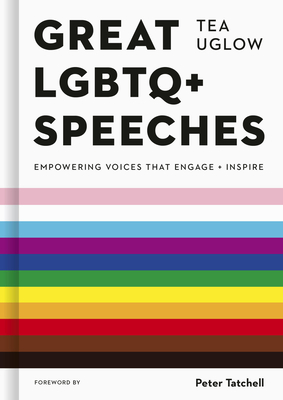 Great LGBTQ+ Speeches
Empowering Voices That Engage And Inspire
Hardcover

* Individual store prices may vary.
Description
Great Queer Speeches is an inspirational collection of speeches from the LGBTQ+ community and its allies that have changed our world, and the conversation.
A sister volume to
Great Women's Speeches
,
Great Queer Speeches
(originally
Loud and Proud
) places the voices of the vibrant LGBTQ+ community centre stage in the
first-ever anthology of LGBTQ+ speeches
. From equal marriage to the AIDS crisis, bullying to parenthood, the first 19th century campaigns through to the new trans rights allyship, the issues covered in these speeches touch on all aspects of LGBTQ+ life and reflect the diverse and multi-faceted nature of this community.
Pour through a pioneering collection of talks, declarations, and lectures, from people whose voices have too often been marginalised and the allies that support them;
Find over 40 empowering and influential speeches that chart the history of the LGBTQ+ movement up to the present day;
Each speech is presented with a striking photographic portrait and an insightful introduction, offering essential context, fresh insights and a nuanced understanding that brings each character and their words to life.
We are stronger when we stand together
, and this collection from award-winning activist Tea Uglow encourages us to do just that whilst celebrating the beauty of our differences.
The voices:
Audre Lorde; Harvey Milk; Munroe Bergdorf; Sir Elton John; Sir Ian McKellen;George Takei; Sylvia Rivera; Bayard Rustin; Elizabeth Toledo; Alison Bechdel; Loretta E. Lynch; Hanne Gaby Odiele; Vito Russo; Tammy Baldwin; Hillary Rodham Clinton; Barack Obama; Dan Savage and Terry Miller; Ban Ki-moon; Karl Heinrich Ulrichs; Robert G. Ingersoll; Theodora Ana Sprungli; Franklin "Frank" Kameny; Sally Gearhart; Harry Hay; Sue Hyde; Mary Fisher; Essex Hemphill; Simon Nkoli; Urvashi Vaid; Eric Rofes; Justice Michael Kirby; Evan Wolfson; Paul Martin; Ian Hunter; Rabbi Kleinbaum; Penny Wong; Arsham Parsi; Anna Grodzka; Debi Jackson; Jóhanna Sigurðardóttir; Lee Mokobe; Geraldine Roman; Cecilia Chung; Olly Alexander.  
Praise For Great LGBTQ+ Speeches: Empowering Voices That Engage And Inspire…
"The power of words is in full force in this diverse compilation of speeches from LGBTQ people who have changed the conversation and, indeed, the world.  A must-have for your queer bookshelf."     - Attitude Magazine
 
"Hopeful and galvanising, the anthology spans a sprawling 150 years of queer brilliance, and shows us how far we've come, and what work there still is to be done." - Dazed
 
"Tea Uglow has created a visually pleasing and emphatic collection that is as educational as is it easy on the eyes! Whether you leisurely flip through the pages or devour the entire collection in one sitting, [Great Queer Speeches] will be a timeless read." - The Nerd Daily
 
"this anthology reminds us of the power of words when used to fire the imagination, reassure communities under pressure and drive us forward to create a better world for ourselves and those who come after us. These words dream! Recommended." - GScene magazine
 
"…a fascinating and beautifully presented collection of inspiring words from some of the most important voices in the LGBTQ+ community, as well as from a number of our allies. These speeches - given by visionaries, civil rights activists, politicians and celebrities from the 1860s to the present day – are heartfelt, often angry but above all brutally honest, and open up a window on the unending fight for our rights, for our identity. It's a book to dip into again and again, and one that belongs on everyone's bookshelf, no matter how they identify." - Darryl W Bullock
 
White Lion Publishing, 9780711275003, 176pp.
Publication Date: June 7, 2022
About the Author
Tea Uglow is Creative Director for Google's Creative Lab in Sydney. She works with cultural and creative organisations around the world exploring the space between technology and the arts and what can happen when they intersect.
 
An experienced public speaker, Tea's TedX talk on the contrast between the screen-based world we live in and the organic world we say we love, has been viewed over 1.5m times. In May 2016 she spoke at the Sydney Writers Festival on Doubt as a creative catalyst; during the talk Tea acknowledged that she was transgender and transitioning, the talk was made into a book and is available as a podcast. 
 
In May 2018 Tea was celebrated as one of Australia's #OUT50LGBTQ Leaders by Deloitte.
 
Peter Tatchell has campaigned for human rights, democracy, global justice and LGBT+ freedom for over 50 years. He is Director of the Peter Tatchell Foundation. To find out more about Peter and his Foundation's life-changing work visit PeterTatchellFoundation.org and follow Peter on Twitter @PeterTatchell.
Jack Holland is an illustrator and graduate of Falmouth University, UK. His work is inspired by people and the shapes and forms of everyday life.