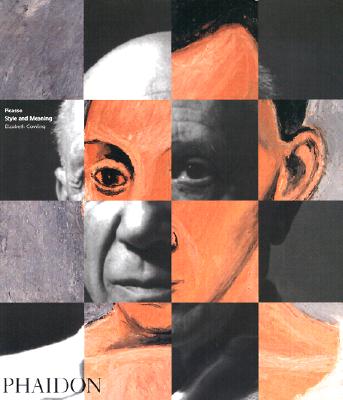 Picasso (Hardcover)
Style and Meaning
Phaidon Press, 9780714829500, 703pp.
Publication Date: July 1, 2002
Other Editions of This Title:
Paperback (3/1/2004)
Hardcover (5/12/2009)
* Individual store prices may vary.
Description
A ground-breaking book in Picasso scholarship in which Elizabeth Cowling presents a fresh, lucid and detailed analysis of the controversial subject of style in Picasso's work up to the outbreak of World War II. Showing how Picasso drew on the work of other artists and events in his own life and times, she reveals how Picasso consciously manipulated style to convey meaning. Combining biography and analysis into a single absorbing narrative, Elizabeth Cowling has produced a major new synthesis that is enthralling to read and full of fresh insights into Picasso's methods and motives.
Pablo Picasso (1881-1973) is perhaps the outstanding figure in the history of art in the twentieth century, known for his extraordinary virtuosity and variety of style. His vast oeuvre has been divided into distinct periods: Blue, Rose, Negro, Cubist, Neoclassical, Surrealist and so on, and for his admirers this range of styles is seen as the surest sign of his unfettered genius. But for his critics this stylistic inconsistency signals a lack of artistic sincerity.
In the first book to look specifically at Picasso's style, Elizabeth Cowling argues that Picasso came to equate stylistic consistency with sterility, and that in drawing freely upon the work of other artists he sought to emulate the formal and emotional range of the actor who can adopt different personae at will. Whereas traditionally artists have tended to achieve variety and meaning through their subject matter, Picasso shared his contemporaries' suspicion of literary themes and gradually reduced his subject matter to a handful of standardized motifs, such as the woman seated in a chair, the artist and his model and the still life, using avast array of different styles as the principal means of communicating ideas and feelings. In short, style is meaning in Picasso's art; his notoriously mercurial nature found expression in stylistic variety and experimentation.
With unfailing intelligence and clarity, an unobtrusive mastery of her sources and exceptional skill in marshalling her arguments, the author has woven biography and analysis into a compelling narrative. The 600 illustrations include all of Picasso's major works up to the beginning of World War II, and these are juxtaposed with their sources -- Old Masters, contemporary artists, found objects, and Picasso's own drawings and sketches -- to make a visually telling counterpoint to the arguments of the text. Scholars familiar with Picasso's work will find Cowling's fresh insights a revelation and readers new to Picasso will come away with a profound understanding of both Picasso and his art.

or
Not Currently Available for Direct Purchase