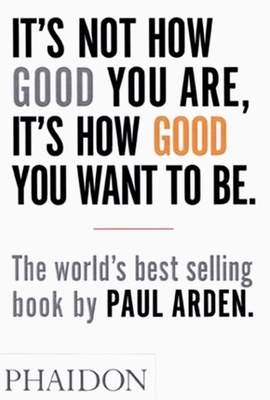 It's Not How Good You Are, It's How Good You Want to Be
The world's best-selling book by Paul Arden
Paperback

* Individual store prices may vary.
Description
It's Not How Good You Are, It's How Good You Want to Be is a handbook of how to succeed in the world: a pocket bible for the talented and timid alike to help make the unthinkable thinkable and the impossible possible.
The world's top advertising guru, Paul Arden, offers up his wisdom on issues as diverse as problem solving, responding to a brief, communicating, playing your cards right, making mistakes, and creativity - all endeavours that can be applied to aspects of modern life.
This uplifting and humorous little book provides a unique insight into the world of advertising and is a quirky compilation of quotes, facts, pictures, wit and wisdom - all packed into easy-to-digest, bite-sized spreads. If you want to succeed in life or business, this book is a must.
Praise For It's Not How Good You Are, It's How Good You Want to Be: The world's best-selling book by Paul Arden…
"Talented but timid? This noted ad-man is here to tell you that ambition, not just mere ability, is the key to success in his world... Arden is punchy and memorable about failing better next time."—i-D
"Saatchi & Saatchi creative legend-turned-director Paul Arden has committed his considerable wit and creative thinking to paper in a handy-sized book on how to succeed. Not just in advertising but in business generally. Far from being one of those excruciating self-help guides favored by buttoned-down businessmen, It's Not How Good You Are, It's How Good You Want To Be is a startlingly refreshing, unputdownable collection of thought-provoking pearls of wisdom."—Shots
"Chapters such as It's Right to be Wrong, Have you Noticed How the Cleverest People at School Are Not Those Who Make It In Life? and Do Not Seek Praise, Seek Criticism are accompanied by an entertaining collection of photos and illustrations. Get it and you'll never think the same way again."—Shots
"The former creative director of Saatchi & Saatchi teaches readers how to smash down life's impossible barriers using a fresh combination of wit, smart thinking, and horrific mistakes. Outrageously genius."—The Good Book Guide
"...A wonderful book by one of the most brilliant men I have ever met... I met him when he worked as creative director at Saatchi & Saatchi and he was simply inspirational - as is this practical, unpretentious little book."—Amanda Platell
"...Deliciously rich paperback..."—Chicago Sun-Time
"British adman Paul Arden's semi-parodic study in self-help is as funny as it is provocative..."—Radar
"Who is this guy Arden anyway? Please forgive my enthusiasm this month for quoting Paul Arden extensively, but his wisdom has recently inspired me. Arden was the creative director of Saatchi & Saatchi from 1977-1992, and his tiny new book out in May, It's Not How Good You Are, It's How Good You Want to Be , packs a big punch. This magnificent little manifesto is for true creative types to read, savor and carry in their pocket. It should remind us all that nothing is impossible."—PAPER magazine
"I read this book regularly. It's like my little holy book that I skim through every now and then. It's about advertising and the workplace, but I find a lot of the content can be applied to just about anything."—Mozhdah Jamalzadah
"Essential reading for those who wish to live a more daring and creative life."—Chichester Observer
Phaidon Press, 9780714843377, 128pp.
Publication Date: June 1, 2003
About the Author
Paul Arden (1940–2008) spent a stormy 18 years in advertising and then found his Alma Mater in Saatchi & Saatchi in 1977, where he worked for 15 years. During his tenure as Executive Creative Director he was responsible for some of Britain's most successful advertising campaigns – including British Airways, Silk Cut, Intercity and Fuji – and famous slogans, such as 'The Car in front is a Toyota' and 'The Independent – It is. Are you?'. In 1993 Arden set up the film production company Arden Sutherland-Dodd and began a successful second career as a writer with a weekly column in The Independent and several publications including Whatever You Think, Think The Opposite (2006) and God Explained In A Taxi Ride (2007).