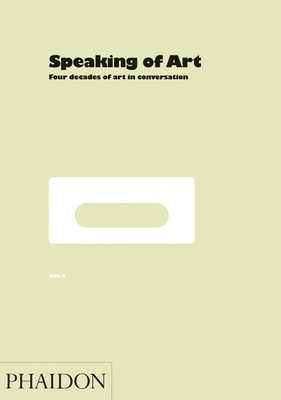 Speaking of Art
Four Decades of Art in Conversation
Hardcover

* Individual store prices may vary.
Description
For 35 years Audio Arts has been a unique project, offering its audience direct access to artists via a quarterly audio magazine. Speaking of Art collects the 43 top interviews from Audio Arts' remarkable history. These never-before-published transcripts include illuminating conversations with such figures as Joseph Beuys, Richard Serra, Marina Abramovic and Damien Hirst.
Praise For Speaking of Art: Four Decades of Art in Conversation…
"The epic career of William Furlong is summed up in this not-to-be-missed book, a vast, brilliant anthology of transcripts from some of his most important recorded interviews with artists over the last forty years."—Mousse
"There is no better way to help inform your appreciation and understanding of an artist's work and philosophy than to hear what they themselves think about what they do. This excellent book focuses on that very point: it brings together in print some 43 artist interviews taken from one of the most impressive sound archives in the world, Audio Arts."—The Artist
"We should probably see Furlong as a peculiarly English autodidact figure scrupulously orchestrating a record of the international art world over the last 40 years... We begin with a bang, with Marcel Duchamp [...] his spiky presence as a provocateur and dandy exactly preserved... Some of the earliest interviewees, such as John Cage, Tadeusz Kantor and Philip Glass, suggest a programme accommodating figures on the margins of a traditional definition of a visual arts discourse. This inclusiveness is a trace of the early Conceptual Art mindset out of which Furlong's project originally emerged... These are, however, evocative historical documents in more ways than simply as records of artists' speech and thought. The 1980s interviews are a window into an era... One of the advantages of reading interviews sequentially is that the particularities of language employed by the artists are highlighted by difference... When [Joseph] Beuys's English slips a little [...], the loss of the original sound is irrelevant as his unmistakeably hypnotic Germanic tones rise through the transcripts. The editing is sensitive enough to establish thematic threads; for example, in the sequential cluster of Wolgang Tillmans, Gilbert & George, Jeff Wall and Thomas Demand, effectively blocking in a workable set of parameters for contemporary art photography."—Art Monthly
"Phaidon Press has now published Speaking of Art, a small sampling of the immense undertaking that resulted from that dissatisfaction. Beginning in 1973, with the help of a few collaborators, Mr. Furlong created Audio Arts, a no-budget 'magazine' composed solely of cassette recordings of interviews with artists Mr. Furlong found interesting. He mailed them to friends and subscribers, at first hundreds and then thousands. [...] Speaking of Art is made to resemble a cassette, with an "A" side and a flip-over "B" side and shiny dark-brown endpapers to evoke magnetic tape. It presents edited transcripts of 43 artists from the archive. [...] The excerpts from their conversations skew more toward the academic (Mr. Furlong has been an art professor most of his life) than toward the breezy tone of Paris Review interviews. But they never veer far from Mr. Furlong's guiding principle that he is talking with artists, not interviewing them."—New York Times
Phaidon Press, 9780714845067, 272pp.
Publication Date: March 31, 2010
About the Author
William Furlong is the founder of Audio Arts, a unique audiocassette magazine distributed and heard internationally. For over thirty years he has recorded interviews with leading international artists at the most significant art events in Britain, Europe and the United States. A practising artist, Furlong is also Visiting Professor at Wimbledon College of Art in London.
or
Not Currently Available for Direct Purchase