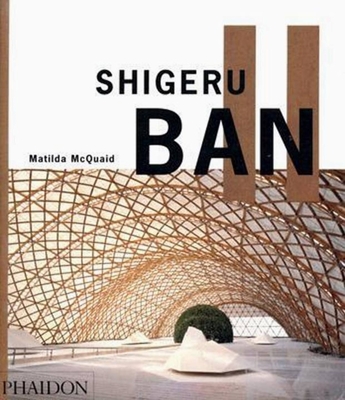 Shigeru Ban
Paperback

* Individual store prices may vary.
Description
Based in Japan and one of an emerging generation of young, world-class architects, Shigeru Ban
(b. 1957) designs and builds graceful, serene structures using modest materials such as cardboard, paper tubes, bamboo, and prefabricated wood. His buildings are sometimes soaring and birdlike, sometimes simple, grounded, and evocative of the Japanese aesthetic, but always they are integrated with and respectful of their surrounding environment. Ban has designed projects at both ends of the client spectrum: from one-room temporary houses of paper tubes for earthquake refugees worldwide to a 14,000 square-foot country house in Sharon, Connecticut -- his first U.S. commission.
His humanitarian efforts and his interest in recyclable, affordable, natural materials have won praise and attention from museums and critics in America and Europe. Ban's Curtain Wall House was a favorite entry in the Museum of Modern Art's "Un-Private House" exhibition in 1999; he has gone on to design a museum for children in Japan, a canal museum in France, and a private art museum in Belgium; he was included in the 2000 and 2002 Venice Biennale, and created the Japan Pavilion for the Expo 2000 in Hannover, Germany. He was a member of the Think team of architects selected in February 2003 as one of two finalist teams to compete for the commission to design the new World Trade Center site in New York.
The hardcover edition of this book is only the second book on Ban in print -- and unlike the first publication, it is the most recent and complete. Designed in Japan and in collaboration with Ban, it is divided into sections that reflect the architect's approach to materials, and presents 32 projects illustrated with colour photographs, plans, and sketches.
Praise For Shigeru Ban…
"For all his experimentation, Ban is not simply a technician. He is just as interested in spatial concepts and social projects. It's this range and his lateral thinking that come across in the wonderful book, leaving one in no doubt that Ban, at only 46, is probably the most dazzling figure on Japan's architectural scene today."—(Royal Institute of British Architects Journal
"Phaidon's single architect monographs are a delectable way to take in an architect's oeuvre, and this new book on Shigeru Ban is no exception."—Wallpaper*
"As a record of an important body of work, this book can be thoroughly recommended … elegantly designed … and beautifully printed. The range of projects is sufficiently varied to sustain coverage at this length."—Building Design
"The book also rightly presents Ban not simply as a Japanese architect but as a 'global architect'."—AA (Architectural Association) Files
"Handsome... An excellent introduction to the work of Ban... The colour reproductions of the buildings are excellent."—Resurgence
"This fittingly cardboard-covered monograph presents Ban's extraordinary architecture as well as detailed technical data on the structural capabilities of various paper products. Ban's material research is as impressive as his designs are sublime."—The Architect's Newspaper
"This new monograph on Shigeru Ban's oeuvre is a valuable reference for likeminded architects."—Architecture
"A volume... As straightforward and elegant as the thirty-two projects portrayed within"—Journal of Architectural Education
Phaidon Press, 9780714846293, 240pp.
Publication Date: March 1, 2006
About the Author
Matilda McQuaid is Exhibitions Curator and Head of the Textiles Department at the Cooper-Hewitt National Design Museum in New York, and until 2001, was Associate Curator in the Department of Architecture and Design at the Museum of Modern Art, New York. She is the author of numerous essays on architecture, textiles and fibre art in journals and museum publications, including a contribution to Envisioning Architecture: Drawings from the Museum of Modern Art (Museum of Modern Art, 2002), which she also edited.
Frei Otto is an eminent architect based in Germany, who has pioneered research in lightweight membranes and innovative structures. He founded the Development Centre for Lightweight Construction in Berlin in 1957, which later became the Institute for Lightweight Structures in Stuttgart. He collaborated with Shigeru Ban on the Japan Pavilion for Expo 2000 in Hanover, Germany.
or
Not Currently Available for Direct Purchase