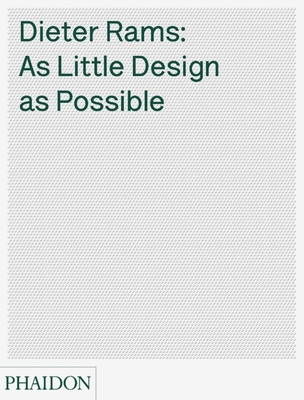 Dieter Rams
As Little Design As Possible
Hardcover

* Individual store prices may vary.
Description
Dieter Rams is one of the most influential product designers of the twentieth century. Even if you don't immediately recognize his name, you have almost certainly used one of the radios, clocks, lighters, juicers, shelves or hundreds of other products he designed. He is famous not only for this vast array of well-formed products, but for his remarkably prescient ideas about the correct function of design in the messy, out-of-control world we inhabit today. These ideas are summed up in his 'ten principles' of good design: good design is innovative, useful, and aesthetic. Good design should be make a product easily understood. Good design is unobtrusive, honest, durable, thorough, and concerned with the environment. Most of all, good design is as little design as possible.
In that spirit, this monograph is as little book as possible. It is a clear, comprehensive and beautiful presentation of Dieter Rams' life and his work. It is a must-have book for anyone interested in Rams' work, his legacy, and his ideas about how to live.
Praise For Dieter Rams: As Little Design As Possible…
"Shines by painting a refreshingly realistic picture of the design process... The easiest way to describe Mr. Rams's impact on design is to say that he made Braun the "Apple" — in other words the It-brand — of its time."—Alice Rawsthorn, International Herald Tribune
"While many of the books about Dieter Rams are predominantly dry catalogues, Lovell's book examines the relevance of his work from a contemporary design standpoint by featuring interviews with some of today's top industrial designers..."—Apphia Michael, Wallpaper.com
"As Little Design as Possible is well-structured, thorough and provides background context to the many facets of Rams's career, and also considers the continuation of his Ten Principles of Good Design."—Thomas Phongsathorn, V&A (Victoria and Albert Museum magazine)
"The design bible from the greatest industrial designer of the 20th century." —Tomas Maier, Esquire
Phaidon Press, 9780714849188, 400pp.
Publication Date: June 22, 2011
About the Author
Sophie Lovell was born in London. After graduating from the University of Sussex and Chelsea College of Art & Design, she moved to Berlin in 1994. She is a  writer, curator and creative consultant as well as a long-term contributing editor and currently the Germany editor of the international lifestyle magazine Wallpaper*. She has written and edited several books on design and architecture including Limited Edition: Prototypes, One-Offs and Design Art Furniture and Furnish – Furniture and Interior Design for the 21st Century.