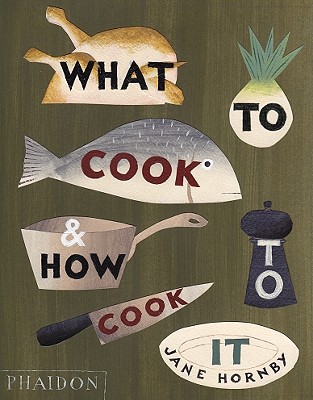 What to Cook & How to Cook It (Hardcover)
Phaidon Press, 9780714859583, 416pp.
Publication Date: October 20, 2010
* Individual store prices may vary.
Description
What to Cook and How to Cook is the ultimate cookbook for beginners, by food writer and recipe editor Jane Hornby. Here, Hornby takes 100 easy and delicious recipes back to basics, pairing straightforward instructions with step‐by‐step photographs illustrating ingredients, process, and techniques. Learn to make meals ranging from simple to spectacular, with tasty recipes for every occasion, including Breakfast Muffins and Spaghetti Carbonara, to Mushroom Risotto and classic Lemon Tart. Hornby's careful explanations will turn even the most timid beginner into a confdient cook with a solid recipe repertoire.
About the Author
Jane Hornby is an established baker, food writer, cookbook author, and recipe tester. She is a columnist for BBC's Good Food magazine and teaches cooking classes. She has appeared on The Martha Stewart Show and been featured in media outlets throughout the U.S. and UK. She is the author of Fresh and Easy and the soon‐to‐be released What to Bake and How to Bake it, both published by Phaidon. Hornby lives outside of London in the English countryside with her partner and top recipe taster Ross.
Praise For What to Cook & How to Cook It…
"
"A Gen Y Nigella Lawson" – Glamour
"UK food writer Hornby's voluminous compendium of culinary classics deserves to make the short list for novice cooks interested in learning how to make the basics from scratch. Over the course of the book's 400‐plus pages, Hornby guides readers through everyday favorites like Huevos Rancheros, Lasagna, Paella, chicken wings and blue cheese dip, and apple pie. Though there are the occasional minor variations on classic recipes (a bay leaf is added to milk simmering for mac and cheese), Hornby's by‐the‐book approach to everyday eating is a terrific resource for those with a taste for tradition. . . a terrific guide." – Publishers Weekly, Starred Review
"One of the most heavily illustrated cookbooks of all time – Nothing's left to chance and everything is beautifully explained – It could just be the best book for novice cooks ever." – Westside
"