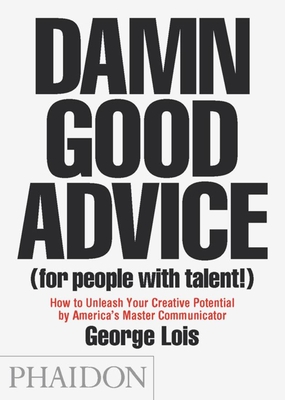 Damn Good Advice (For People with Talent!)
How To Unleash Your Creative Potential by America's Master Communicator, George Lois
Paperback

* Individual store prices may vary.
Description
Damn Good Advice (For People With Talent!) is a look into the mind of one of America's most legendary creative thinkers, George Lois. Offering indispensle lessons, practical advice, facts, anecdotes and inspiration, this book is a timeless creative bible for all those looking to succeed in life, business and creativity. These are key lessons derived from the incomparle life of 'Master Communicator' George Lois, the original Mad Man of Madison Avenue. Written and compiled by the man The Wall Street Journal called "prodigy, enfant terrible, founder of agencies, creator of legends," each step is borne from a passion to succeed and a disdain for the status quo.

Organised into inspirational, bite-sized pointers, each page offers fresh insight into the sources of success, from identifying your heroes to identifying yourself. The ideas, images and illustrations presented in this book are fresh, witty and in-your-face. Whether it's communicating your point in nanosecond, creating an explosive portfolio or making your presence felt, no one is better placed than George Lois to teach you the process of creativity.

Poignant, punchy and to-the-point, Damn Good Advice (For People With Talent!) is a must have for anyone on a quest for success.
Praise For Damn Good Advice (For People with Talent!): How To Unleash Your Creative Potential by America's Master Communicator, George Lois…
"Positions [Lois] as a kind of belligerent elder statesman... [his] personality [...] springs gleefully from every page... His portfolio is peppered with campaigns, slogans and design work that truly influenced popular culture... Damn Good Advice contains numerous examples of how [Lois'] innovative, at times outrageous thinking has won his agencies new business." —Creative Review
"This ad man is Mad man." —New York Post
"An Innovation Bible... A must-have spine stiffener for artists and entrepreneurs alike." —The Huffington Post
"George Lois offers indispensable lessons, practical advice, facts, anecdotes, and inspiration for all those looking to succeed in life, business, and creativity." —NPR's Morning Edition
"An irreverent, playful, genuinely useful set of rules to live by for aspiring creatives." —Details
"A legendary career book." —A Cup of Jo
Phaidon Press, 9780714863481, 176pp.
Publication Date: March 12, 2012
About the Author
George Lois is one of America's most creative, prolific and celebrated advertising communicators. Since his twenties, he has been a pioneer in developing the Creative Revolution in contemporary culture, transforming brands such as MTV, Tommy Hilfiger and USA Today. He is the only person ever to be inducted into The Art Directors Hall of Fame, The One Club Creative Hall of Fame, have Lifetime Achievement Awards from the American Institute of Graphic Arts, the Society of Publication Designers, as well as being a subject of the Masters Series at the School of Visual Arts. He lives in New York City.