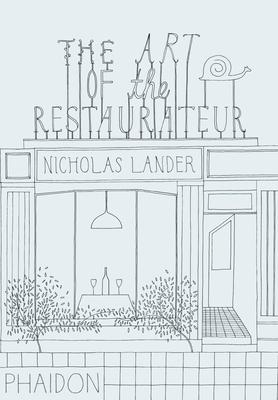 The Art of the Restaurateur (Hardcover)
Phaidon Press, 9780714864693, 351pp.
Publication Date: September 17, 2012
Description
Until 30 years ago, restaurateurs were considered the most important figures in any restaurant's success, with chefs consigned to the kitchen. This process began to change with the elevation of chef-patron Paul Bocuse in the late 1970s, and has continued with the rise of the celebrity chef. Restaurateurs are hugely important but rarely written about and significantly under-appreciated. The profession, other than its commercial and social aspects, has a fundamental human appeal: restaurateurs derive their name and profession from the French verb restaurer when their role was to restore the health of travellers battered by the potholes of French roads in the early 19th century. The role has changed a lot since then, and continues to evolve in fascinating ways.
Praise For The Art of the Restaurateur…
"Nicholas Lander is such a fluent writer in this fascinating book, The Art of the Restaurateur. His system of completing each profile with a salient restaurant point applicable to all is brilliant." - Danny Meyer

"Nobu wasn't built in a day. In Nicholas Lander's gorgeous illustrated book. . .Drew Nieporent and 19 other proprietors reveal what it takes (pluck, creativity, Clintonian people skills) to run a top dining establishment. A must-read for restaurant lovers." - Details

". . .serves as an excellent primer to the world of running a restaurant. In a world where chefs get all the attention, it's nice to see the incredibly difficult work of restaurateur get its due." - Eater National

"In an age of celebrity chefs, this book turns its eye on the unsung heroes of the restaurant industry. In retelling stories of the rise of our era's most famous restaurants and the owners behind them, the book studies successes and failures of each, as well as their decisions behind such as aspects as location, design, menus, and more." - La Cucina Italiana

"Most [Restaurant Hospitality] readers who read this one will likely deliver the same verdict: "Finally, a book about us!" - Restaurant Hospitality

"If you've ever wondered what goes into running a single stalwart or growing empire, now's your chance to learn." - The Wall Street Journal

". . .the book also offers food for thought on the restaurateur's art. . .Lander does not resort to the waspish prose that makes some other restaurant critics fun to read. But in these splendid establishments perhaps there was simply nothing to sneer at." - The Economist

"So many people fantasize about starting their own restaurant and few have the slightest idea of what it takes. Meet 20 of the greats including Danny Meter and Joe Bastianich to learn the elements that make for an establishment's success and staying power. (Love the illustrations, too!) - GOOP

". . .Lander offers a globe-trotting tour of gastronomic proportions. The culinary writing is restrained. . .without a hint of snobbery, and an absence of interest in all things trendy. . .Look for valuable lessons and sound advice." - Macleans
Advertisement