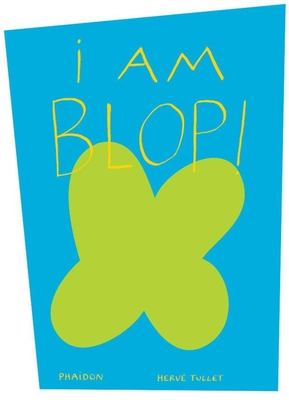 I am Blop! (Hardcover)
Phaidon Press, 9780714865331
Publication Date: March 5, 2013
* Individual store prices may vary.
Description
Welcome to the world of Blop! A Blop is a simple shape, somewhere between a flower and a butterfly, a sponge and a drawing of a little man -- above all Blop is whatever you want it to be. Using very few woods and handwritten text I AM BLOP! explore many concepts encountered for the first time by young children, including up and down, single and plural, individual and family, city and countryside etc. This single shape represents anything a child's mind can imagine. With 110 illustrations in varying colors and patterns, little or sometimes no words at all, each page has a unique Blop that brigs a whole new dimension to children's reading. I AM BLOP! is an invitation to discover and explore everyday life and hundreds of ideas through one simple shape.
About the Author
Hervé Tullet (b. 1958) studied Fine Art and worked as an Art Director for ten years before joining the advertising industry. In 1990, he produced his first illustrations for French publications including Elle, Le Monde, Libération, Lire, Enfants Magazine and more. In 1994, he publish his first book for children and has since become of the world's most innovative bookmakers, hosting exhibitions in Korea, London, France, Turkey, the United States and more, and winning numerous awards including the Sorcieres Prize in 2011 and the Pépite Prize in 2012. Known in France as "The Prince of Preschoolers," Tullet takes the concept of reading to a new level, teaching young minds to think imaginatively, independently, and creatively. He has published the New York Times bestseller PRESS HERE, as well as DOODLE COOK, and the LET'S PLAY GAMES series of board books for young children. He lives in Paris.
Praise For I am Blop!…
"Tullet (Press Here) plays with shapes that look like chubby Xs or butterflies -- blops," he calls them. on every page, one blop (or several, or dozens) do new things, each with a short, hand-lettered title. The six-page "Story of Yellow and Blue Blops" ends with a transparent page with a blue blop printed on it; placed over a yellow blop, they create green. But that's only the beginning. A foil page on a spread mirrors a blop at right ("Blop discovers," written backwards, is legible on the foil.) Blops are decorated like works of art, gnawed on, scribbled on, and even forbidden ("No blopping," reads one page, with a red bar across a blop.) Perforated punch-out blops are included at the end, and a questionnaire ("What do blops eat?") concludes this parade of blop events and transformations. Since the blops themselves are not characters, it's the sheer volume of variations Tullet dreams up that gives the work its energy. And as a hat-tip to the book's endless search for innovation, even the format is a novelty -- it's a stylish, irregularly-shaped polygon. Ages 3-up." - Publishers Weekly, starred review

"Don't bother looking up "blop" in the dictionary. You won't find it. Instead, award-winning French illustrator Herve Tullet means for you to decide for yourself how to describe the abstract shape inside the funhouse-shaped board book. Is it a butterfly, star, shamrock? Because it's everything and nothing in particular, Blop takes on a personality of intrepid curiosity -- morphing through colors, grown gin size and multiplying, and discovering its own reflection. Simple questions and declarative statements lead young readers along Blop's 110-page journey from the chalkboard to 3-D sculpture and beyond." - Dallas Child

"Lighthearted, fun and original, this book will delight children and parents alike." - Kirkus Reviews, starred review

"Incredibly whimsical and endlessly inventive. . ." - Scripps Howard News Service
or
Not Currently Available for Direct Purchase