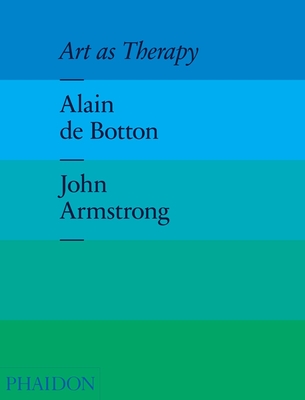 Art as Therapy (Hardcover)
Phaidon Press, 9780714865911, 240pp.
Publication Date: October 14, 2013
Other Editions of This Title:
Paperback (10/24/2016)
* Individual store prices may vary.
Description
"
What is art's purpose? In this engaging, lively, and controversial new book, bestselling philosopher Alain de Botton and art historian John Armstrong propose a new way of looking at familiar masterpieces, suggesting that they can be useful, relevant, and – above all else – therapeutic for their viewers. De Botton argues that certain great works offer clues on managing the tensions and confusions of everyday life. Chapters on Love, Nature, Money, and Politics outline how art can help with these common difficulties – for example, Vermeer's Girl Reading a Letter helps us focus on what we want to be loved for; Serra's Fernando Pessoa reminds us of the importance of dignity in suffering; and Manet's Bunch of Asparagus teaches us how to preserve and value our long‐term partners. Art as Therapy offers an unconventional perspective, demonstrating how art can guide us, console us, and help us better understand ourselves.
"
About the Author
"
Alain de Botton (b.1969) is the author of bestselling books in more than 30 countries, including The Consolations of Philosophy, How Proust Can Change Your Life, Status Anxiety, and most recently Religion for Atheists. He founded The School of Life in London in 2008, which supplies good ideas for everyday life in the form of courses, classes, workshops and talks. In 2009 he founded Living Architecture, which aims to make high‐quality architecture accessible to everyone.
John Armstrong (b.1966) is a British philosopher and art historian based at Melbourne University. He is the author of five well‐received books, including The Intimate Philosophy of Art, Conditions of Love: The Philosophy of Intimacy, and In Search of Civilisation: Remaking a Tarnished Idea.
"
Praise For Art as Therapy…
"
"One of the most intellectually exciting books I have read this year. . . full of illumination and insights. . . The four teenagers to whom I gave the book have all been thrilled by the sense that art isn't the preserve of high priests. Best of all, I took my student son to the Rijksmuseum and, utterly absorbed, he said he would never look at art the same way again. De Botton is throwing open a door and doing what art ought to do: making us think and feel afresh. I hope many people step through it." – The Times
"A highly optimistic vision. . .roams widely through subjects as immense as love, nature, money and politics. De Botton and Armstrong's examination of love is most rewarding." – Royal Academy of Arts
"Asking the questions that always swirl through your mind when striding around Tate Modern. . . Art as Therapy massages the mind in all the right places." – Vanity Fair on Art
"It's like going back to college, but in a good way. . . A little bit like dipping in to a modern day Gombrich albeit through the eyes of Oprah. . . A really entertaining and thought‐provoking look at the role that art plays – or could play – in our lives. . . Part philosophy, part art history, the book takes work that is considered by many to be lofty and rarified, and relates it to our everyday lives. [Art as Therapy] makes the reader consider the work far more intensely and deeply than perhaps we otherwise would." – A Little Bird
"A true meditation on the power art has to transform our lives." – The Mayfair Magazine
"The beautifully designed and illustrated book, Art as Therapy argues for a new way of using art to help us with a variety of psychological ills." – The School of Life
"