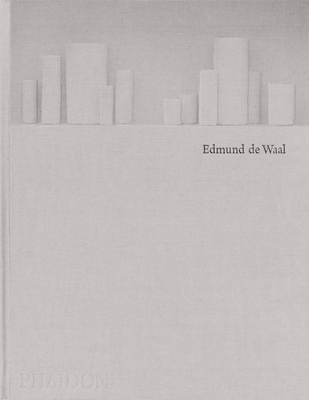 Edmund de Waal (Hardcover)
Phaidon Press, 9780714867038
Publication Date: April 21, 2014
* Individual store prices may vary.
Description
The first monograph on Edmund de Waal, the internationally renowned artist and bestselling author of The Hare with the Amber Eyes.
Featuring contributions from Emma Crichton–Miller, Colm Toibin, Peter Carey, AS Byatt, Alexandra Munroe, and Deborah Saunt.
The first complete survey of de Waal's career to date, this groundbreaking monograph encompasses major exhibitions and installations at the Victoria and Albert Museum, Tate Liverpool, and the Gagosian Gallery in New York. Stunning photography conveys the delicacy of de Waal's works and provides a rare glimpse into his studio practice.
In addition to being one of the world's leading ceramicists, de Waal is also a renowned historian of the medium. His critical and personal essays and poetry are interspersed throughout the book, bringing to light the prominence of ceramics in our everyday lives. Together, de Waal's art and writing speak to his enduring fascination with the nature of objects and the attendant history of their collection and display.
Contributions to this monograph by novelists Colm Toibin, Peter Carey, and AS Byatt appear alongside critical essays by Guggenheim curator Alexandra Munroe, journalist Emma Crichton–Miller, and architect Deborah Saunt. Elegant papers and a tooled case make Edmund de Waal an exquisitely collectable object.
About the Author
Edmund de Waal describes himself as "a potter who writes." His work has been displayed in museums and galleries worldwide, including the Victoria and Albert Museum in London and Gagosian Gallery in New York. De Waal was apprenticed as a potter, studied in Japan, and read English literature at Cambridge University. His biography The Hare with the Amber Eyes was an international bestseller and received numerous honors, including the Galaxy National Book Award, the Costa Book Award for Biography, and an Economist book of the Year selection.
Praise For Edmund de Waal…
"This stunning monograph, the first collecting the work of artist and writer de Waal... Functions like a poem, measuring off de Waal's work from the world it lives in, and finding in that partitioning the boundless potential of a simple pot."—Publishers Weekly
"This April sees the publication of a deluxe monograph on de Waal's work by Phaidon Press, which, in place of the usual impenetrable art speak, includes eloquent contributions by such writerly types as AS Byatt, Colm Toibin, and Peter Carey."—Departures
"Emma Crichton-Miller contributes a graceful, sympathetic biographical introduction, the clearest account of de Waal's career so far. The book is... in full accord with de Waal's own aesthetic: a beautiful piece of work in its own right, to be cherished."—David Sexton, Evening Standard
"In words, and through Toby Glanville?s fine photographic essay, Edmund de Waal presents an image of the artist as a uniquely gifted wunderkind."—TLS - Tanya Harrod
"This book evokes serenity." —Tomas Maier, Esquire