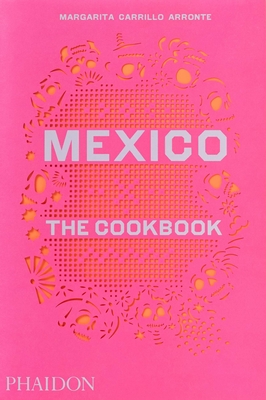 Mexico
The Cookbook
Hardcover

* Individual store prices may vary.
Description
A New York Times Best Seller
A Publishers Weekly Top Ten Cookbook (Fall 2014)
"All my life I have wanted to travel through Mexico to learn authentic recipes from each region and now I don't have to – Margarita has done it for me!" – Eva Longoria
The first truly comprehensive bible of authentic Mexican home cooking, written by a living culinary legend, Mexico: The Cookbook features an unprecedented 700 recipes from across the entire country, showcasing the rich diversity and flavors of Mexican cuisine. Author Margarita Carrillo Arronte has dedicated 30 years to researching, teaching, and cooking Mexican food, resulting in this impressive collection of Snacks and Street Food, Starters and Salads, Eggs, Soups, Fish, Meat, Vegetables, Accompaniments, Rice and Beans, Breads and Pastries, and Drinks and Desserts.
Beautifully illustrated with 200 full‐color photographs, the book includes dishes such as Acapulco‐style ceviche, Barbacoa de Pollo from Hidalgo, classic Salsa Ranchera, and the ultimate Pastel Tres Leches, each with notes on recipe origins, ingredients, and techniques, along with contributions from top chefs such as Enrique Olvera and Hugo Ortega.
Praise For Mexico: The Cookbook…
"For those interested in learning how to make authentic Mexican cuisine, Arronte has provided the definitive guide."—Publishers Weekly Top Ten Cookbook (Fall 2014)
"All my life I have wanted to travel through Mexico to learn authentic recipes from each region and now I don't have to - Margarita has done it for me!"—Eva Longoria
"Absolutely wonderful. I wish I could close my door and read it all day."—Nancy Wall Hopkins, Senior Deputy Editor-Food & Entertaining
"Hasta La Vista, Tex Mex."—Better Homes and Gardens
"Mexico: The Cookbook may kill your taste for supermarket salsa for good."—Elle Magazine
"Mexico: The Cookbook promises to introduce even the biggest fans of tort as and tamales to something new about Mexican cuisine and aims to prove that it can be as refined as it is accessible."—Time.com
"Exquisitely beautiful and encyclopedic."—T Magazine Essential
"Your go-to guide to Mexican home cooking."—Tasting Table
"I have long been an admirer of Margarita Carrillo's work. In her new book, her warm and expert voice shines and proves to be a most delightful guide through the fascinating labyrinth of Mexican cuisine. Every cook, be it expert or beginner, will benefit and savor from this splendid Mexican cookbook with hundreds of tried and true recipes: a must for any Mexican food lover."—Pati Jinich
"Margarita is the embodiment of everything that I love about Mexico and her food is delicious. A definite hero."—Thomasina Miers
"A mammoth 700 page collection of Mexican recipes... A 'food bible'."—Publishers Weekly
"Might just be the most comprehensive cookbook on the country's cuisine ever published."—The Sunday Times Travel
"Definitive... Even the most learned Mexican food expert would be pushed to think of a dish not already listed. A beautiful book in both design and substance... Can't be faulted."—The Culture Trip
"...With its laser-cut hot pink cover, I can only tell you the recipes beneath it are just as divine."—sfgirlbybay
"The Mexican home-cooking bible (and the most beautiful book)."—DomesticSluttery
"This weighty book includes more than 600 recipes for home-style Mexican dishes, and its vibrant cutwork cover adds spice, energy, and cheer to any cookbook shelf."—Allrecipes
"I heard Margarita Carrillo Arronte was the authority on Mexican food, so I got this cookbook and never looked back. The salsa is so good it makes all supermarket-bought salsa seem tasteless and insipid by comparison, and her traditional taco recipes are incredible and perfect for summer eating."—The-Pool.com
Phaidon Press, 9780714867526, 704pp.
Publication Date: October 27, 2014
About the Author
Chef and restaurateur Margarita Carrillo Arronte was born into a large family who respected their deep cultural and culinary roots, and has devoted nearly 35 years to help traditional Mexican cuisine find its way to every corner of the world. She has lectured about Mexican food at schools including The Culinary Institute of America and Le Cordon Bleu; served as Vice‐President of the Mexican Conservatory of Gastronomical Culture; and acted as an official representative of Mexico for the G‐20 summit in Los Cabos. She is also a published author who has hosted several food shows for the El Gourmet channel in Mexico. Chef Margarita currently lives with her family and four dogs in Mexico City.