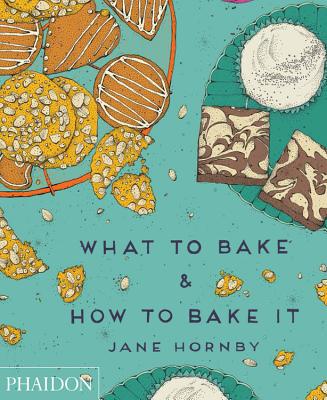 What to Bake & How to Bake It (Hardcover)
Phaidon Press, 9780714868653, 240pp.
Publication Date: September 29, 2014
* Individual store prices may vary.
Description
A quintessential baking cookbook – with 500 step‐by‐step photographs – for both beginners and seasoned bakers, by Jane Hornby, author of the popular What to Cook and How to Cook It.
What to Bake and How to Bake It is destined to be the new favorite cookbook of novice bakers, while offering plenty of inspiration for more experienced home cooks. With ten photos per recipe, the steps are easy to follow for fifty go‐to desserts, including classic cookies, family‐friendly cakes, elegant pastries, and much more. From Salted Caramel Shortbread Bites to Malted Milk Chocolate Birthday Cake, Skinny Blueberry Muffins to One Crust Apple and Blackberry Pie, and Sticky Pear and Pecan Toffee Cake to Vanilla Fruit Scones, there is a homemade treat here for everyone.
Hailed as a "Gen Y Nigella Lawson" by Glamour, Hornby has a down‐to‐earth style that makes the impossible possible, and her new collection of foolproof, repeatedly tested, delicious recipes will ensure you're confident in the kitchen.
About the Author
Jane Hornby is an established baker, food writer, cookbook author, and recipe tester. She is a columnist for BBC's Good Food magazine and teaches cooking classes. She has appeared on The Martha Stewart Show and been featured in media outlets throughout the U.S. and UK. She is the author of the cookbooks What to Cook and How to Cook It and Fresh and Easy, both published by Phaidon. Hornby lives outside of London in the English countryside with her fiancé and top recipe taster Ross.
Praise For What to Bake & How to Bake It…
"
"A Gen Y Nigella Lawson." – Glamour
"What to Bake and How to Bake It is an exhaustively – and attractively – illustrated guide to baking, aimed at beginners." – The New York Times Book Review
"Novice bakers, rejoice! This photo‐packed guide to home baking showcases easy treats that still manage to impress. If you're ready to shed your identity as a hopeless non‐baker, then What to Bake & How to Bake It is your book." – Epicurious.com
"A gorgeous, graphic tome. . . It's a book to return to again and again." – Saveur
"This is a beautiful cookbook for amateur bakers looking to master the classics and expand their repertoires." – Sweet Paul
"For those looking for expert instruction on making cakes, bread, pies and more, Hornby provides an ideal place to start." – Publishers Weekly
"Fifty recipes for the amateur baker (read: an ideal book for you and the children) run the gamut from sheet cakes to pastry. All have step‐by‐step photos, and beautiful illustrations throughout." – Real Simple
TrendingNY Want List selection, September 2014
"Hornby sets out to 'take the guesswork out of baking', and with clarity and concision, that's exactly what she does. [Jane] covers all bases with a definitive collection of recipes. Impeccable step‐by‐step methods, leaping off the page in both textual and photographic form. Graphic precision and simplicity, the overall effect is one of calm in the kitchen. This weighty hardback is definitely a looker." – The Guardian
"Jane Hornby's novice‐friendly What to Cook & How to Cook It (2010) was a game‐changer for the penniless, starving student; now she is working a similar magic on Bake Off‐inspired non‐bakers." – The Daily Telegraph
"Foolproof. Demystifies the world of baking." Eat In
"She brings the beauty of soft, fruit‐filled jelly rolls, carrot cake and more classic desserts, spelling out how to make each one step‐by‐step. [Jane's attention to detail and love of instruction make it clear that this book is tailor‐made for the budding baker.' – Tasting Table, Best Fall Dessert Books
"