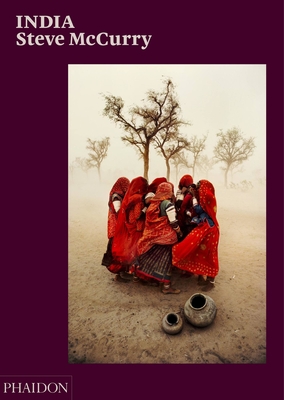 India
Hardcover

* Individual store prices may vary.
Other Editions of This Title:
Paperback (1/22/2020)
Description
India explores the lives of everyday people in extraordinary settings through the lens of Steve McCurry, one of the most admired photographers working today. As featured on cnn.com.
This new portfolio of emotive and beautiful photographs from India features 150 previously unpublished images taken across the Indian subcontinent, along with iconic photographs that are famous worldwide.
Reproduced in a large format with captions, and an introductory essay, this book features a range of color pictures illustrating this most colorful of countries, capturing the lives of everyday people in extraordinary settings: from the Ganesh festival on Chowpatty beach in Mumbai to the Kolkata railway station before dawn to the flower markets of Kashmir and the streets of Old Delhi.
Following Phaidon's 2013 bestseller Untold: The Stories Behind the Photographs, McCurry's India is a new selection of the photographer's beautiful and powerful images of India, a country he has photographed many times over the last thirty years.
Other Phaidon titles by Steve McCurry, include Steve McCurry, The Iconic Photographs, Steve McCurry, Unguarded Moment and Steve McCurry: South Southeast.
Praise For India…
"One of the most eminent photographers in the world, McCurry creates timeless and evocative color photographs that leave the viewer mesmerized by whatever subject or scene he frames."—complex.com on Steve McCurry
"McCurry can make the hellish look heavenly - incredible photographs that change the way we look at our world - haunting and provocative images."—The Sunday Times Magazine on Steve McCurry
"McCurry's colorful work shows an India never before seen."—Time.com
"Fascinating daily scenes and landscapes are sure to inspire."—Sunday Times Travel Magazine
"A world of almost make-believe... Arresting."—Time.com
"Intoxicating India: breathtaking pictures of the colour and chaos of the world?s most vibrant continent. Incredible... A photographic love letter to the mesmerising nation... Printed in stunning resolution in a giant coffee table format, Steve McCurry is the perfect way to escape to the enchanting nation."—Mail online
"Iconic images [...] taken in 40 years of visiting India, showcasing the people and extraordinary settings of one of the most spiritual countries on Earth."—Guardian online
"A world of almost make-believe... Arresting."—The Hindustan Times
"McCurry gives a genuine panorama of the country... The book?s large format and excellent reproduction means McCurry?s distinctive, vivid colour style is celebrated here in all its glory."—Outdoor Photography
"Nobody captures better the dynamism and dysfunction of India today than the celebrated Magnum photographer Steve McCurry... Mesmerizing pictures... McCurry embraces all strata of society in his panoramic sweep [...] but is never overtly judgmental, just an observer of everyday life... He turns the mundane into the extraordinary."—Tatler
"An insider?s India... What [McCurry] captures in several photographs are those sights, both quirky and bizarre, that are so familiar to the Indian eye, the chuckle-inducing humour in everyday situations."—Mint
"Reveals the extreme contrasts of the world?s second most populous country... Humour and tragedy, vulgarity and spirituality sit side by side."—The Times
"India is a lavish large format book, beautifully printed... And handsomely bound."—New York Journal of Books
"Words cannot do justice to the India that he has captured."—The Citizen
"[L]ushly colored images of people, places and events across the Indian subcontinent."—CBSnews.com
"Everyday life in extraordinary settings."—TheBodEdit
—
-
Phaidon Press, 9780714869964, 208pp.
Publication Date: October 26, 2015
About the Author
Steve McCurry (b.1950) has been one of the most iconic voices in contemporary photography for more than 30 years, with scores of magazine covers, over a dozen books, and countless exhibitions around the world to his name. A member of Magnum Photos, he has created stunning images in six continents and countless countries. His work spans conflicts, vanishing cultures, ancient traditions and contemporary culture alike – yet always retains the human element. McCurry has been recognized with the Robert Capa Gold Medal and National Press Photographers Award.