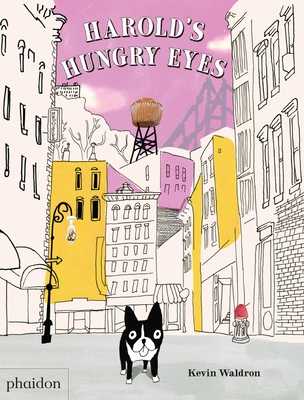 Harold's Hungry Eyes (Hardcover)
Phaidon Press, 9780714871240, 32pp.
Publication Date: May 16, 2016
* Individual store prices may vary.
Description
A stylish depiction of the life of a food-obsessed urban dog, with hints of edible humour
Like most dogs, Harold is food-obsessed; unlike most dogs, he imagines food in the most unlikely places - on buildings, cars, mailboxes, even fire hydrants! When Harold gets lost in the big city, he is overtaken by hunger and begins to see things: hot dogs on an antenna, a turkey roast in the mailbox, and toast popping out the top of a building! Thankfully, Harold's hungry eyes lead him to familiar landmarks and he finds his way home... to breakfast!
Created for ages 4-6 years
About the Author
Kevin Waldron grew up in Dublin, studied in London, and now resides in New York City with his American architect wife. He shares a studio with Oliver Jeffers, Jon Burgerman, and other UK transplants, who goad one another endlessly. He has published three picture books to date.
Praise For Harold's Hungry Eyes…
"Great fun for children... Harold will melt your heart." —South Wales Evening Post
"Executed with verve and humour... Should inspire children and their parents to look in wonder at the ordinary and extraordinary in everyday life." —Inis (Ireland)
"This hilariously silly book cleverly visualises everyday objects as edible items." —Financial Times
"Beautifully illustrated, quirky and funny, this is a real bed-time treat." —The Sun
"this original, funny story will delight children from four to six years old." —Huffpost Parents
"Combines [Waldron's] exquisite drawing skills with his engaging story-telling ability." —Irish Post
"Young readers will love this story... Waldron's artwork is bright and colourful with a quirky, modern use of collage." —BookTrust.org.uk
"A funny tale that will go down well on Christmas morning, before the real feast begins." —Absolutely Mama
"He hasn't eaten since breakfast! Never has a modern tragedy unfolded that was closer to my heart. As little Harold bravely wanders the jaunty streets of New York City, I see my own daily struggle. Heroes are made and lost between meals." —Inis, Reading Guide
"Harold is a Boston terrier who likes nothing better than to sit in his comfy armchair and dream of food... Fans of Harold can stay close through an activity pack and desktop wallpaper created by Phaidon to accompany this picture book."—The School Librarian