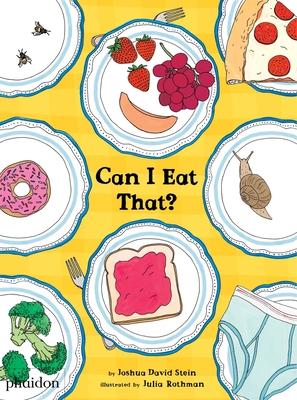 Can I Eat That?
Hardcover

* Individual store prices may vary.
Other Editions of This Title:
Hardcover (3/28/2016)
Description
A whimsical–yet factual–series of questions and answers about the things we eat... and don't eat!
Food critic Joshua David Stein whets the appetite of young readers with a wondrous and informative approach to talking about food. This humorous, stylized and entirely unexpected set of food facts will engage both good eaters and resisters alike. With questions both practical ("Can you eat a sea urchin?") and playful ("Do eggs grow on eggplants?"), this read-aloud text offers young children facts to share and the subtle encouragement to taste something new! Food and textile illustrator Julia Rothman brings an authenticity to the text that Stein has written from the heart, for his own three year-old and for pre-schoolers everywhere.
Created for ages 3-5 years
Praise For Can I Eat That?…
"This wonderfully stylish, funny and informative book will whet the appetites of young gastronomes and fussy eaters alike."—BookTrust.org.uk
"It's a book for both dubious and curious eaters that also cleverly explores the foibles of the English language. Illustrations by Julia Rothman entertain the kids while unexpected turns of phrase keep adults guessing" —Food52
"Bright, whimsical illustrations... The book has a lot of fun with language." —NPR
"Tasty... Stein's clever words and tight phrasing are put to good effect alongside Rothman's colourful illustrations" —West Weekend magazine
"Adorable and hilarious" —A Cup of Jo blog
"An absolute beauty of a children's book... Can I Eat That? Is a wonderfully playful look at all things both edible and indigestible, and how confusing the names of our foodstuffs can be" —The Guardian
"Rollicking... Tempting fare for venturesome children" —Kirkus Reviews
"Fun and informative... Not only has illustrator Julia Rothman done a brilliant job making and food and food production appealing to young readers, but the book's global perspective means new foods might be just be embraced a bit more willingly while you're away" —Olive
"Giddy in its sense of linguistic discovery" —Publishers Weekly
"A playful series of Q's & A's about food! Informative yet entertaining, as well as encouraging good eaters." —Angels & Urchins
"A feast of fun."—Inis (Ireland)
"A quirky combination of fact and fun, this distinctive picture book about food poses questions that inquisitive children typically ask, such as: 'If I eat jelly and I eat fish, can I eat jellyfish?' Stylish, witty and informative." —Book Trust
"[This] humorous book will delight young and old readers alike."—am New York Online
"American food critic Joshua David Stein has turned his hand to children's book with this little gem from Phaidon."—Cuisine
"A lovely big book with illustrations that children will enjoy..."—The School Librarian
"...Appeals to all kids - not just fussy eaters."—SheKnows
"A lot of fun word play accompanied by bright, cheerful illustrations. A great book for those who love food, words, and learning new things."—Book Riot
"Another excellent book from food critic Joshua David Stein... A playful, yet practical, book all about food."—Some the Wiser Blog
Phaidon Press, 9780714871400, 40pp.
Publication Date: March 28, 2016
About the Author
Joshua David Stein frequently contributes to New York Magazine, The New York Times and the Sunday Times, and he is a restaurant critic at the New York Observer. He lives in Manhattan with his wife and two sons. This is his first children's book.
Julia Rothman creates illustrations and pattern designs for newspapers, magazines, wallpaper, dishware, bedding, billboards, and posters. She has authored and illustrated seven books, though this is her first children's book. She lives in Brooklyn.
or
Not Currently Available for Direct Purchase