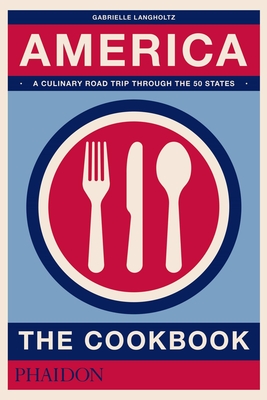 America
The Cookbook
Hardcover

* Individual store prices may vary.
Description
With 800 home-cooking recipes, America: The Cookbook is a celebration of the remarkable diversity of American food and food culture state by state. Features 50 essays and menus from a 'who's who' of 100 foremost food experts and chefs.
America: The Cookbook is the first book to document comprehensively – and celebrate – the remarkable diversity of American cuisine and food culture. A thoroughly researched compendium of 800 home-cooking recipes for delicious and authentic American dishes, America: The Cookbook explores the country's myriad traditions and influences, regional favorites and melting-pot fusion – the culinary heritage of a nation, from appetizers to desserts and beyond. A unique state-by-state section features essays and menus from a 'who's who' of 100 foremost food experts and chefs.
Praise For America: The Cookbook…
"This book gets it right."—Andrew Zimmern, award-winning television host and author
"A 768-page paean to American cuisine." —Modern Farmer
"This 768-page tome celebrates America's delicious diversity by exploring favorite regional dishes from across the country."—Alaska Airlines Magazine
"A sweeping 700+ page cookbook... A wide range of recipes."—Eater
"America: The Cookbook is an ambitiously-researched compendium... that celebrates the nuances of America's food heritage in the form of 800 regionally treasured recipes." —New Worlder
"An ode to incredible food and food culture this great land has to offer." —Cool Material
"[T]he most exuberant celebration yet of our culinary melting pot... Every turn of the page delivers a new delight or an old friend, transforming Langholtz's cookbook into an amble through the abundance of the splendid, sprawling American table." —Bookpage
"Langholtz sets out to document all the nooks and crannies of American cuisine, and she succeeds spectacularly... Essays from influential chefs and food writers from each state add depth and perspective to the book... Rather than simply offering a rote recitation of well-worn classics, Langholtz artfully includes recipes that show America's kaleidoscopic culinary landscape." —Publishers Weekly, Starred review
"Google "American food", hit "Images" and behold this great nation's cuisine in all its glory: lurid hotdogs dripping in luminescent sauce, greasy burgers piled a foot high and sickly sweet pancakes ready to rot your teeth. This is, of course, an unfair pastiche of what the US brings to the world's culinary table. But these reference points are all too common. This is a key driving force behind an exhaustive new tome... "None foresaw the day when chefs would boast of California wine, New Jersey asparagus, Colorado lamb, or American cheese," says Gabrielle Langholtz in her introduction. "I wrote this book to refute this misconception that American food means homogenised processed blandness. I come to bury the burger". Apart from being an American who edits food magazines, Ms Langholtz attributes the passion for her project to her parents, who would take her the length and breadth of the US as a child to experience the country's culinary delights... An education that, backed up by exhaustive research, is presented comprehensively in the book, from starters to puddings, from state to state, with recipes and chef interviews throughout."—MrPorter.com
"After years of publishing massive tomes devoted to the home cuisine of such countries as Italy, France, and Spain, Phaidon sets its sights on America, sending author Gabrielle Langholtz on a quest to document all the nooks and crannies of American cuisine." —WNYC - The Leonard Lopate Show
"Pan-seared bison, devilled crab, jambalaya... The menu goes way beyond burgers."—Sunday Times Travel Magazine
"The must-have kitchen bible... A heavyweight contender for space on your shelf alongside requisite copies of Mark Bittman's How to Cook Everything and Julia Child's Mastering the Art of French Cooking... It acknowledges the contributions not only of this continent's indigenous peoples but also those of refugee and immigrant populations that have taken hold in unlikely places."—Bloomberg
"To call America: The Cookbook a tome is an understatement."—Arkansas Democrat-Gazette
"[A] food lover's travel guide."—New Hampshire Magazine
—
-
Phaidon Press, 9780714873961, 768pp.
Publication Date: October 9, 2017
About the Author
Gabrielle Langholtz has travelled extensively throughout America and for a decade was the award-winning editor of Edible Manhattan and Edible Brooklyn. Previously, she was the head of special projects and publicity at the New York City Greenmarket and authored The New Greenmarket Cookbook. She resides in Pennsylvania, though has lived in many states.
Contributions by 100 foremost food experts and chefs: Scott Peacock, Frank Stitt (Alabama); Christopher Nicolson (Alaska); Gary Paul Nabhan (Arizona); P. Allen Smith, Matthew McClure (Arkansas); Jonathan Gold, Alice Waters (California); Eugenia Bone, Holly Arnold Kinney (Colorado); Michael Stern, Gabe McMackin (Connecticut); Sam Calagione, Hari Cameron (Delaware); Norman Van Aken (Florida); Nicole A. Taylor, Hugh Acheson (Georgia); Rachel Laudan, Martha Cheng (Hawaii); Kevin Huelsmann, Kris Komori (Idaho); Paul Kahan, Stephanie Izard (Illinois); Jonathan Brooks (Indiana); Jeremy Jackson, Andy and Carrie Schumacher (Iowa); Carl Thorne-Thomsen (Kansas); Adam Sachs, Edward Lee (Kentucky); Brett Anderson, John Besh (Louisiana); Andrew Taylor and Mike Wiley (Maine); John Shields, Jeremiah Stone (Maryland); Corby Kummer, Barbara Lynch (Massachusetts); Ari Weinzweig, Anita Lo (Michigan); Winona LaDuke, Andrew Zimmern (Minnesota); Martha Foose, John Currence (Mississippi); Danny Meyer, Colby and Megan Garrelts (Missouri); Seabring Davis, Andy Blanton (Montana); Clayton Chapman (Nebraska); Alicia Barber (Nevada); Susan Laughlin, Alison Ladman (New Hampshire); Ian Knauer (New Jersey); Freddie J. Bitsoie, Jonathan Perno (New Mexico); Adam Gopnik, Melissa Clark (New York); Rachel Wharton, Ashley Christensen (North Carolina); Laura Shunk (North Dakota); Jeni Britton Bauer, Michael Anthony (Ohio); Lucas Dunn, Judy Allen and Valarie Carter (Oklahoma); Mike Thelin, Naomi Pomeroy (Oregon); Aimee Olexy, Greg Vernick (Pennsylvania); Chris Cosentino, Champe Speidel (Rhode Island); Matt and Ted Lee, Robert Stehling (South Carolina); Emily and Melissa Elsen, MJ Adams (South Dakota); Kevin West (Tennessee); Robb Walsh, Dean Fearing (Texas); Blake Spalding and Jen Castle (Utah); Seamus Mullen (Vermont); Michael W. Twitty, Sean Brock (Virginia); Renee Erickson (Washington); Brent Cunningham, Damian Heath (West Virginia); Christine Muhlke, Dave Swanson (Wisconsin); Jeff Drew (Wyoming).