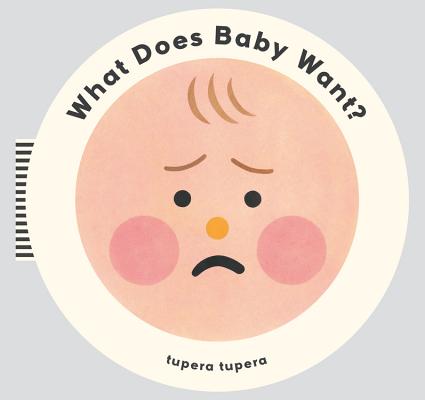 What Does Baby Want?
Board book

* Individual store prices may vary.
Description
This baby is not comforted by a teddy bear or toy. This baby wants only one thing: milk!
When baby is hungry, neither his teddy bear, his ball, nor even his shiny tambourine will soothe him. This tribute to the nursing baby - and even more so, to the breastfeeding mother - will read as conventional to babies and toddlers but as taboo-busting to parents. Celebrate the natural magic of growing a baby with this simply worded, expertly illustrated, and shockingly honest shaped board book. Perfect for nursing babies, older siblings, and expectant parents. A sure-to-be favorite baby shower gift!
Praise For What Does Baby Want?…
2017 Board Books Worth Noting, School Library Journal
"Completely developmentally appropriate and fits with the pro-breast-feeding message most doctors advocate. All-around brilliant."—Kirkus STARRED Review
"Daughter loved it, giggling and very happy. Then read it again. And again!" —Hollie McNish, acclaimed British poet, author
"Tupera's board book is the kind of surprising, canny offering that makes you wonder how no one else did it first... Very well done, and something you don't see every day. Unless you do."—Booklist
"What Does Baby Want is a large, round board book for the breastfeeding mother that hits the nail on the head - er, the nipple on the boob - for what babies actually want... celebrate[s] nursing with a straightforward, simple, and beautifully illustrated tribute to breastfeeding... Normalizing the breast in baby books is a huge leap forward for that segment of the publishing world." —Baby Center
"My favorite book of the year: What Does Baby Want?... Because for many older siblings, this... is a daily reality. One they've undoubtedly never seen replicated in their literature before."—Betsy Bird @FuseEight
"What an honest and breastfeeding-positive message!"—5 Minutes for Mom
"You'll notice a distinctive difference about new board book What Does Baby Want? by Japanese design duo Tupera Tupera, which tells the story of a hungry baby and his breastfeeding mother. Perfect for reading aloud to nursing babies and their older siblings."—Baby London
"At a time when breastfeeding in public can still court reproach, this is a joyful, cheeky, and candid expression of one of the most elemental ways that mothers nurture their children."—Publishers Weekly STARRED Review
"An utterly fantastic little board book with an innovative 'round' design that plopped into our review pile, making us both giggle and 'awww' at the same time. A really lovely 'first book' for a new baby, as mums and dads settle into a routine and (hopefully) make reading aloud to their little ones a part of that too." —Read It Daddy
"Entertaining ... a light hearted and extremely funny story about breast feeding. Highly appealing and playful... A great little gift for baby showers!" —South Wales Evening Post
"Cut in an unusual circular shape, it tells the story of an unhappy baby and a mama trying to find out what he wants. Brilliantly illustrated, the book features a spread of a pair of boobs, which my children found hilarious, but it's so nice to see breastfeeding normalised in a baby book! It also has close-ups of the baby's face that babies will be instantly drawn to. A sweet gift for a new nursing mama and her little one." —BambinoGoodies.co.uk
"Ground-breaking... Refreshingly honest."—Early Years Childcare Magazine
"Breastfeeding in public remains a touchy subject and children's books can be skittish around nudity, but neither is an issue for this smart, defiant book."—Publishers Weekly
"An undeniably cheeky board book..." —Boston Globe
"One of those brilliant designs that is so elegant (and hilarious) in concept that you can't believe it hasn't been done before." —HuffPost
"Wall Street Journal Best Children's Book of 2017 - The cheekiest and most surprising board book of 2017." —Wall Street Journal
"Sure to be opened with giddy excitement, passed around the room, and Instagrammed with abandon." —Lifehacker
"My small boys loved this book and it certainly brought a smile to their faces. The three-year-old shouted "boobies!" when we got to the boob page and my one-year-old tried to latch onto the page which made us all laugh like drains!" —Jo Farren, ABM (Association of Breastfeeding Mothers)
"I knew it would be a hit... Freya loved the pictures and turned the pages in great anticipation... She asked for "more book" straight away and we read it four times!" —Gina Cooke, ABM (Association of Breastfeeding Mothers)
Phaidon Press, 9780714874074, 22pp.
Publication Date: June 16, 2017
About the Author
Tupera Tupera is the award-winning Tokyo-based husband-and-wife design team of artists Tatsuya Kameyama and Atsuko Nakagawa. In addition to producing humorous, colourful, and highly original picture books and illustrations, they spread their talents across a wide variety of creative fields, including crafts, workshops, set design, animation, merchandise, and children's television. They have published over thirty children's books in Japan. This is their fifth book in English.