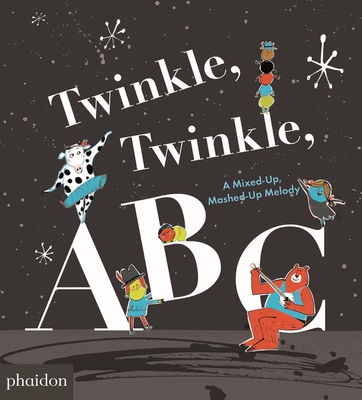 Twinkle, Twinkle, ABC
A Mixed-up, Mashed-up Melody
Board book

* Individual store prices may vary.
Description
A musical mash-up for the toddler set that will bring them to their feet! ... until it's time to sleep.
Veteran children's book author and singer/ songwriter Barney Saltzberg has created a classic sing-aloud book with enduring appeal! Though "Twinkle, Twinkle, Little Star" and "The Alphabet Song" follow the same exact tune, never before has a children's book mashed up these two quintessential songs of childhood. The lyrics are seamlessly woven together and enriched with cameos by high-flying birds, a twirling cow, a growling bear, a banjo, and a tree swaying in the wind. Benaglia's whimsical art brings a Seussian feel and a visual narrative that leads the reader right... into... bed.
Ages 1-4
Praise For Twinkle, Twinkle, ABC: A Mixed-up, Mashed-up Melody…
"Twinkle Twinkle Little Star and The ABC Song both have the same tune. It's a revelation to many adults... The bright illustrations and solid hardback book make this story ideal for babies aged around 1 year. Certainly the rhyming elements are perfect for toddlers and nursery aged children getting to grips with early language. This fun book is perfect for the winding down bedtime read with its mute tones and characters falling asleep." —ChopsyBaby.com
"Sing along to this lyrical mash-up enriches with silly cameos by high-flying birds, a twirling cow, a growling bear, and a banjo. Readers are encouraged to 'moo' and 'tweet', to flap and bounce, to stand tall and fly... Combining actions with rhyme to make the book come alive!"—NI4Kids
"Charming and inventive... Brilliant for bedtime."—Early Years Childcare Magazine
"Children are going to love this delightfully energetic rhyming, bookish, ABC adventure, which will surely become a family favorite."—Through the Looking Glass
"I've said it before and I'll say it again – what a clever little idea for a clever little book." —Fuse8 blog
"The sweetest of books and the perfect nighttime read. Twinkle, Twinkle, ABC is a total mash-up of the two songs which really works and is brought together with lots of animals and plants including a twirling cow, a swaying tree and a growling bar. It's the perfect book to lead the reader off to sleep." —GlobalMouse.com
"A clever mash up of two classic songs for children... which I can foresee being a great activity for kids and parents. It's a unique and interactive way to make learning the ABCs more fun, and a good bedtime story to support any daytime learning. The rhymes used throughout are clever... The illustrations have a very appealing colour palette, and the way the letters are visually integrated into the text is very natural looking. One aspect of the book I really liked was the fact that the final pages wind down to sleepy time, using the Z very appropriately... yet another unique element to the book that bolsters its inherent musical feel and not something I've not seen in many children's books before... Great for parents wanting to find other ways of making learning the ABCs fun and interactive. Also a great nighttime, wind down read overall." —ArmadilloMagazine.co.uk
"Artful and melodic... Perfect for winding down and instilling the idea in those little minds that bedtime means books." —Families Upon Thames
"Follow the children as they fly with birds and dance with cows before winding down to sleep, illustrated in a graphic and quirky style by Fred Banaglia. Your baby will love hearing you sing - and hopefully be lulled to sleep." —Gurgle
"This sing-aloud book sure has enduring appeal! Though Twinkle, Twinkle, Little Star and The Alphabet Song follow the same exact tune, never before has a children's book mashed up these two quintessential songs of childhood. " —Herfamily.ie Ireland
"A whimsical poem that encourages children to get up and move... Vibrant, colorful cartoon illustrations." —Kirkus
"Celebrate spring with this exuberant board book... This book will have your kids whirling and twirling like the lively characters depicted."—Washington Parent
"Barney Saltzberg brilliantly intertwines... Two timeless classics and adds in his own quirky mix to make an engaging board book that babies and toddlers are going to love... Catchy and fun!"—Library Mom
"A delight to read aloud (or sing)! So many wonderful words and sounds. The illustrations are bright and whimsical."—Kiss the Book
Phaidon Press, 9780714875071, 32pp.
Publication Date: October 2, 2017
About the Author
Barney Saltzberg is an author, illustrator, and singer/songwriter who has published over 50 children's books, including the bestseller Beautiful Oops! Barney won a 2010 NAPPA Gold Award, a 2011 Teacher's Choice Award for the Family, a 2012 National Parenting Publications Gold Book Award, and a 2012 Parents' Choice Award. He lives with his wife, dogs, and guitars in Los Angeles.
Fred Benaglia has lived and worked in Paris for over 20 years, currently as artistic director for Bayard Press children's magazines. He has published numerous picture books and illustrated chapter books in France. This is his second book in English and with Barney Saltzberg, following their first collaboration, Hug This Book!
or
Not Currently Available for Direct Purchase