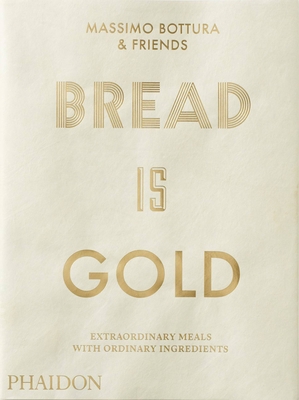 Bread Is Gold
Paperback

* Individual store prices may vary.
Description
Massimo Bottura, the world's best chef, prepares extraordinary meals from ordinary and sometimes 'wasted' ingredients inspiring home chefs to eat well while living well.
'These dishes could change the way we feed the world, because they can be cooked by anyone, anywhere, on any budget. To feed the planet, first you have to fight the waste', Massimo Bottura
Bread is Gold is the first book to take a holistic look at the subject of food waste, presenting recipes for three-course meals from 45 of the world's top chefs, including Daniel Humm, Mario Batali, René Redzepi, Alain Ducasse, Joan Roca, Enrique Olvera, Ferran & Albert Adrià and Virgilio Martínez. These recipes, which number more than 150, turn everyday ingredients into inspiring dishes that are delicious, economical, and easy to make.
Praise For Bread Is Gold…
"More often than not, what we consider "waste" – be it a fish head or a broccoli core – has enormous culinary potential." —Dan Barber
"The recipes are in fact super-accessible... Bread is Gold is worth it for Bottura's voice alone... He finds a way to pair the intellectual with the personal, and his voice is very clear and very warm."—Eater
"[Bread is Gold] will make you both hungry and ready to take on the world's food-waste dilemma."—Tasting Table
"...Keep an eye out for chef Massimo Bottura's gorgeously illustrated second book, Bread is Gold."—Eater
"Bread is Gold brings [Bottura's] mission into homes, turning "wasted" ingredients into creative and nutritious meals. With the help of friends like Alain Ducasse, Daniel Humm, and Enrique Olvera, Bottura helps home cooks transform on-hand ingredients into easy-to-make, economical meals." —New Worlder
"What happens when you set the world's best chefs the challenge of creating dishes using waste food? Something pretty special, it turns out. A recipe book that'll make you think differently... Delicious recipes." —Marie Claire
"[It] will make you think differently about what and how you use ingredients in your kitchen."—Departures Online
"Inventive... A collection of dishes from some of the world's best chefs using simple ingredients and techniques, that anyone can reproduce. But it is also a call to arms ? how can we change the way we eat, the way we relate to food?... Massimo talks of the importance of the chefs as bringers of change."—LocavoreMagazine.com
"More than just a beautiful collection of recipes from some of the world's most venerated chefs. This is cookbook as social manifesto, a passionately told story of Bottura's ambitions for Refettorio Ambrosiano, the community soup kitchen he established in an outer suburb of Milan in 2015 to tackle the enormity of food waste... Bottura shows us what can be achieved by turning discarded, undervalued and neglected ingredients into fabulous, nourishing recipes."—Australian Financial Review (Australia)
"Star chef Massimo Bottura takes on food waste... with inspiring recipes from him and his famous friends like Mario Batali."—Food & Wine
"The book IS extraordinary in and of itself ? a collective gathering of stories and recipes from some of the finest chefs in the world who eagerly came together to share in the legendary Bottura's message."—Toronto Sun
"[A] new cookbook that will figure prominently on WaPoFood's list of the year's best."—Washington Post
Phaidon Press, 9780714875361, 424pp.
Publication Date: November 6, 2017
About the Author
Massimo Bottura is the chef patron of Osteria Francescana, a three-Michelin-star restaurant that he opened in 1995 in Modena, Italy, which was ranked #1 in the World's 50 Best in 2016. Massimo was interested in cooking from a young age. In 1986, he opened his first restaurant and subsequently developed his love of food while working for Alain Ducasse and Ferran Adrià. Massimo has created Refettorios, soup kitchens that use excess food from supermarkets and local suppliers to provide healthy, seasonal meals for people in need. He is the author of Never Trust a Skinny Italian Chef, which was also published by Phaidon.
Recipes and three-course meals created by: Daniel Humm, Mauro Colagreco, René Redzepi, Yoshihiro Narisawa, Enrico & Roberto Cerea, Yannick Alléno, Gastón Acurio, Andrea Berton, Davide Oldani, Sara Papa & Alberto Calamandrei, Antonio, Alberto & Giovanni Santini, Ugo Alciati, Mitsuharu Tsumura, Alain Ducasse, Viviana Varese, Luca Fantin, Daniel Patterson, Mark Moriarty, Joan Roca, Antonia Klugmann & Fabrizio Mantovani, Matías Perdomo, Enrique Olvera & Carlos García & Rudolfo Guzmán, Cristina Bowerman, Alessandro Negrini & Fabio Pisani, Giuseppe Palmieri, Andreas Caminada, Ferran & Albert Adrià, Petter Nilsson, Carlo Cracco, Juan Mari Arzak, Michel Troisgros, Andoni Luis Aduriz, Jessica Murphy, Manuel & Christian Costardi, Alex Atala, Matt Orlando, Niko Romito, George Brown, Virgilio Martínez, Jeremy Charles, John Winter Russell, Mario Batali, Ana Ros, Moreno Cedroni, Mauro Uliassi, Gennard Esposito, Carles Mampel, Antonio Bachour, Oriol Balaguer, Pino Cuttaia and Alice Delcourt.
Coverage from NPR