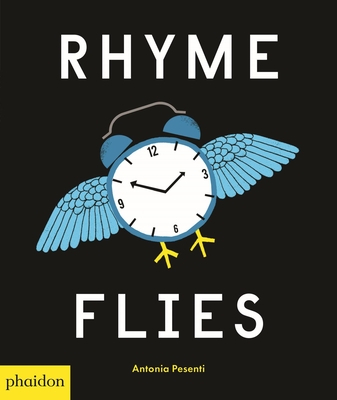 Rhyme Flies (Board book)
Phaidon Press, 9780714876399, 40pp.
Publication Date: May 11, 2018
* Individual store prices may vary.
Description
Stunningly stylish art accompanies indulgent word play, ridiculous rhymes, and giggle-inducing punch lines
Suitcase... FRUITcase!
This deceptively simple pattern offers up one surprising rhyme per spread revealed behind a dramatic gatefold flap. Readers will delight in wagering guesses ? rhyming, of course ? before casting their eyes on the satisfying visual conclusion of the riddle. The list is subtly arched as a chronological day, from fresh orange GOOSE in the morning to TWEET dreams at night. Anything is possible in this beautifully packaged book of toddler comedy, which builds pre-literacy, vocabulary, and auditory skills, and encourages natural extensions outside of the book.
About the Author
Antonia Pesenti is an architect and illustrator. She works across the two disciplines, co-directing an award-winning design practice as well as illustrating for many international clients. Creating picture books is her passion. This book is her debut as an author.
Praise For Rhyme Flies…
Winner of the Oppenheim Toy Portfolio Gold Seal Award
"The bold illustrations of this irreverent book are perfect for babies, as you introduce them to fun rhymes and riddles. Let them think about drinking fresh orange goose while eating a moon of starmalade and carrying a fruitcase - it's nonsense, in the best possible way."—Smallish
"The publisher calls this a "beautifully packaged book of toddler comedy", which is such a great phrase that I may have to steal it. I don't know if little little kids will get every joke, but their older siblings certainly will. And it's honestly funny."—Fuse Eight Blog/SLJ.com
"Who does not love to rhyme? The art of rhyme in poetry and language begins at birth and why not start your young child with this lift-a-flap board book full of unassuming and surprising rhymes galore! Fun! Inventive! Full of laughs! This book will surely have you and your child laughing out loud. 'Finger nails... Finger snails!"—Daniel Boroughs, bookseller at Bank Square Books in Mystic, CT
"Really simple... A great present."—My Baba Facebook page
"Combines the most unlikely of ingredients to make something fantastical. Introduce babies to the world of rhymes while they discover what it might be like to drink Fresh Orange Goose or carry a Fruitcase."—Absolutely Mama
"A fun book that allows little ones to play around with language and come up with some cracking rhymes all of their own... The list is subtly arched as a chronological day, from fresh orange GOOSE in the morning to TWEET dreams at night. Anything is possible in this beautifully packaged book of toddler comedy, which builds pre-literacy, vocabulary, and auditory skills, and encourages natural extensions outside of the book."—Read It Daddy blog
"Anything is possible in this beautifully packaged book of toddler comedy, which builds pre-literacy, vocabulary, and auditory skills, and encourages natural extensions outside of the book."—Herfamily.ie
"[A] fun game to play with preschoolers as they play around with rhymes, a good skill to build on for beginning readers."—Oppenheim Toy Portfolio
"Simple but fun... Children will love reading this book over and over again to enjoy the surprises."—Juno
"This nonsense book combines the most unlikely of ingredients to make something fantastical. Introduce babies to the world of rhymes while they discover what it might be like to drink Fresh Orange Goose or carry a Fruitcase."—AbsolutelyMama
"Elegant design with witty and funny rhymes and challenging children to play with words make this book a winner."—Kirkus Starred Review
"Squarish and shiny, Antonia Pesenti's board book... plays a gentle repetitive joke on small children. Each spread offers an anodyne expression accompanied by a blocky, straightforward illustration that, when the next page unfolds, takes a cockamamie new form... [E]ncourag[es] toddlers and their parents to keep playing with rhyming words long after they've closed the cover."—Wall Street Journal
"Features beautiful bold artwork... Will help to build the vocabulary and auditory skills of young readers."—Baby London
"The gross-out laughs will delight children as they try to guess what rhyme will be revealed."—South Wales Evening Post
"This arty rhyme book for babies is full of surprises, featuring rhymes that no one will see coming... The stylish illustrations have a mature feeling, so it's a welcome mix with the absurdness of the simple text... Definitely a book to share and laugh over together."—BooksTrust.org
"Striking illustrations join with rhyming word play in this impeccably designed volume... An excellent selection."—School Library Journal