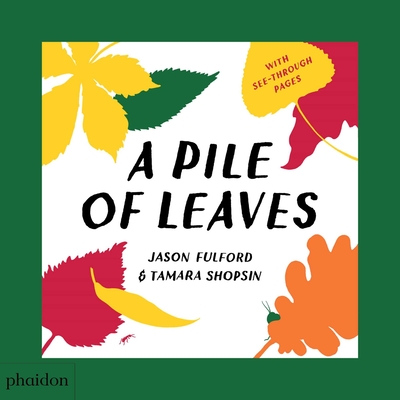 A Pile of Leaves
Published in collaboration with the Whitney Museum of American Art
Board book

* Individual store prices may vary.
Description
Dig through the leaf pile in this collage-inspired book with see-through pages
Readers explore the concept of layering and collage with this interactive exercise in composition. Each clear acetate page features a single element in the leaf pile, though some are not leaves at all! As readers turn the pages, the leaf pile is deconstructed piece by piece on the right side, and reconstructed on the left. Younger readers will enjoy the seek-and-find aspect of the hidden objects, while older readers might experiment by adding their own images between the pages. A key at the back provides the names of each kind of leaf shown. Inspired by the Whitney Museum's approach to looking at art, these books provide a new way to look at the world.
Colors are brighter than they appear - printed in pure Pantones.
Ages 2-4
Praise For A Pile of Leaves: Published in collaboration with the Whitney Museum of American Art…
"I'm not much of a fan of wordless picture books. A Pile of Leaves is an exception... My kids and I paged through the book once, silently. Then we started over and talked through it, discussing leaves and piles and missing objects. 'It's like digging through a toy basket for a missing piece', my son said."—The New York Times
"Say hello to the coming season with this beautiful new book... With stunning autumnal elements... Inviting young readers to dig through leaves of all shapes and sized to uncover surprises beneath."—Baby Magazine
"The striking design engages tactile and visual senses while inviting readers to observe colors, compare shapes, and learn new vocabulary."—Publishers Weekly
"Rising Board Book Superstars... Fulford & Shopsin have been producing consistently inventive books in that field... With bold striking colors and [an] infinitely cool design, I can't think of a better autumnal title to kick off today's list."—School Library Journal Online
"Fantastic and fascinating for pre-readers, this clever collage book features see-through acetate pages to create, quite literally, a pile of leaves. Delve through the layers to discover the creepy crawlies hiding underneath."—Absolutely Mama
"A lovely way to introduce young children to the art of collage."—5 Minutes for Mom
"Playfully designed to invite young readers to dig through a pile of laves and uncover the surprises throughout. The clever design also presents the opportunity for children to add their own images between the book's clear pages."—City Kids
"This clever book of collage features see-through acetate pages with beautiful autumnal elements, playfully designed... Young readers will enjoy the seek-and-find aspect... The clever design also presents the opportunity for children to add their own images between the book's clear pages."—Just imagine
"An interesting book that will get children excited about fall."—Imagination Soup
"Innovative, modern and incredibly fun."—Kids' Home Library
"If you love the countryside in autumn, and want to share woodland walks and nature with your little ones, you'll love this new book for pre-schoolers."—Coombe Mill Family Farm Holidays
"What a wonderful way to invite children to explore not just this book, but also the world around them, where so many simple treasures hide in plain sight... This book is its own little work of art."—Kirkus Reviews - Starred review
"This board book is one that feels extra special the moment you open it... It's one of those books that makes you think "I can't believe no one has thought of this before!"—Book Nerd Mommy blog
"A sophisticated reprise of the old kindergarten activity of sealing fallen leaves between sheets of transparent wax paper... Turning the pages has the effect of emptying one pile (which, like a real leaf pile, includes the odd insect and lost mitten) and creating a new one."—The Wall Street Journal
"This innovative wordless book, created in partnership with the Whitney Museum of American Art, uses see-through pages to create a collage of beautifully coloured leaves... A clever idea that sparks conversation and encourages curiosity."—BooksWithBaby.com
"Published in association with the Whitney Museum of American Art, this book is its own little work of art."—Kirkus Reviews
"Just right for fall reading either one-on-one or with a small group, this board book offers a unique experience... Clever and a delight to explore, this board book is like breathing crisp fall air in book form."—Waking Brain Cell
Phaidon Press, 9780714877204, 24pp.
Publication Date: September 17, 2018
About the Author
Jason Fulford is a photographer, graphic designer, and cofounder of the nonprofit J&L Books. He is a contributing editor at Blind Spot and a frequent lecturer at universities. His monographs include Sunbird, Crushed, Raising Frogs for $$$, The Mushroom Collector and Hotel Oracle. He lives with his wife, Tamara Shopsin, in New York.
Tamara Shopsin is a graphic designer and illustrator whose work has been featured in The New York Times, Good, Time, The New Yorker, Wired and Newsweek. She is the author of several books including Mumbai New York Scranton: A Memoir and Arbitrary Stupid Goal, as well as the designer of 5 Year Diary. She is also a cook at her family's restaurant, Shopsin's, in New York.
or
Not Currently Available for Direct Purchase