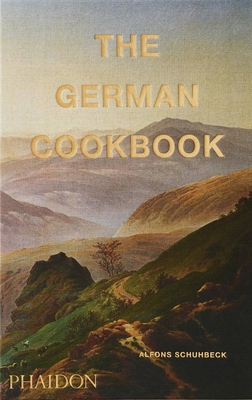 The German Cookbook
Hardcover

* Individual store prices may vary.
Description
The only comprehensive collection of German recipes - from authentic traditional dishes to contemporary cuisine
Germany is made up of a series of distinct regional culinary cultures. From Hamburg on the north coast to Munich in the Alpine south, and from Frankfurt in the west to Berlin in the east, Germany's cities and farmland yield a remarkable variety of ingredients and influences.
This authoritative book showcases this diversity, with 500 recipes including both beloved traditional cuisine and contemporary dishes representing the new direction of German cooking - from snacks to desserts, meat, poultry, and fish, to potatoes, dumplings, and noodles. An introduction showcasing the culinary cultural history of the country introduces the origins of the classic recipes.
These recipes have been tested for accuracy in a home kitchen, making them fully accessible to a wide range of cooking abilities. Icons indicate everything from vegetarian, gluten-, and dairy-free options to recipes with five ingredients or fewer and simple one-pot dishes.
The German Cookbook is the latest in Phaidon's bestselling series of authoritative cookbooks on global cuisines.
Praise For The German Cookbook…
"German food deserves much more attention than it gets. Top marks to Phaidon, then, for attempting to put that right with its latest publication, The German Cookbook. Published this month, it's a collection of 500 recipes that highlight the country's distinct gastronomic regions, with dishes ranging from fish burgers and beer-braised beef to drunken maidens (sweet, fried dumplings) and poppy seed dumplings with plum compote."—Olive
"Germany called. Said it's got a whole heap of delicious food we've all been ignoring because we're too busy eating pizza and camembert and chorizo. 500 classic and contemporary recipes prove that there's more to German food than sausages and sauerkraut."—Domestic Sluttery
"[If] you're interested in digging deep-way deep-into German cuisine, then this is your encyclopedia... It's a hit parade of German cooking."—National Post
"This impressive overview of German cuisine-the type of encyclopedic cookbook that Phaidon does so well - is packed with the kind of comforting German recipes you might expect... But there are plenty of dishes that will challenge your assumptions about stereotypical German food, too."—Food52
"Gorgeously illustrated."—OUT Magazine
"The German Cookbook provides 450 pages of recipes, ranging from classic dishes to contemporary culinary offerings, all beautifully packaged in a hardcover featuring 19th-century landscape paintings by Caspar David Friedrich... It's hard not to feel hungry after browsing through the hundred-plus food photographs."—Vogue Online
"[One] of fall's top cookbooks."—The Wall Street Journal
"Beautiful photography and design as well as [a] collection of hearty dishes from across Germany."—Remodelista
"...Beautifully designed, lavishly photographed, well written and pretty exhaustive too. You get a true insight into [the country's] food, with history, culture and regional recipes all mixed. My favourite culinary series."—Mail on Sunday
"Phaidon's predilection for producing definitive, breeze-block sized surveys of single-country cuisines continues with this tome to all things Teutonic. Collated and penned by the Michelin-starred chef Alfons Schuhbeck, the sheer breadth of recipes is startling. That's not to say the stereotypical tenets of German cookery are broken: stodge, stews, sausages and pickles abound, from Berliner currywurst (each dish is listed with its region) and Bavarian sour calves liver, through Thuringian river fish ragout, a beef-and-dumpling-laden Wedding Soup from Westphalia, myriad preparations of cabbage and hundreds more. A concise intro and decent glossary provide welcome context for this perennially underrated national cuisine."—Wallpaper.com
"Tell your Schweinshaxe from your Spanferkel with this new cookbook."—ShortList
"As Alfons Schuhbeck observes, correctly [...] Germany is "not widely known for its food"... [He] has gathered more than 500 recipes, drawn from four decades of professional cooking and all of Germany's regions, lending strength to his claim to provide an authoritative guide to the nation's cooking. The result is a beautiful object... The German Cookbook delivers in providing solid, practical instructions for some classic dishes as as others who popularity if of more recent origin."—Times Literary Supplement (TLS)
"This authoritative book showcases the German culinary diversity, with 500 recipes including both traditional cuisine and contemporary dishes representing the new direction of German cooking."—East Bay Express
Phaidon Press, 9780714877327, 448pp.
Publication Date: October 8, 2018
About the Author
Alfons Schuhbeck hails from Bavaria, and is regarded as an authority on German cuisine. In addition to his work as a chef and broadcaster, Schuhbeck is a restaurateur and businessman, with an online food business, wine bistro, spice shop, ice-cream parlour, two restaurants, and a cooking school.