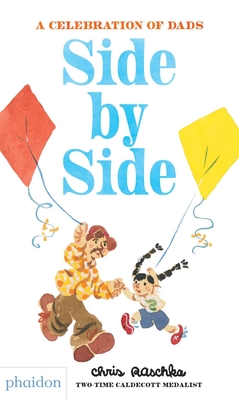 Side by Side
A Celebration of Dads
Hardcover

* Individual store prices may vary.
Description
A heartfelt and playful ode to the father-child relationship, by two-time Caldecott-medal-winning author Chris Raschka
King and Jester, Boat and Captain, Mountain and Climber... fathers and children are all of these things and more in Chris Raschka's tribute to this familial pair. Each stanza presents three scenarios in which the father and child's roles are subtly balanced. The pairs vary between stanzas, coming together in a visit to an ice-cream truck. With minimal text and maximum emotion, the book encapsulates Raschka's own passion and nostalgia for being a father to his [now-grown] son.
Ages 3–5
Praise For Side by Side: A Celebration of Dads…
"A perfect read-aloud... The energetic presentations offer up ebullient joy... Show the warm love... Rain or shine, indoors or out, the pictures of the pairs circle and support this close bond with splashing colors in every shade of happy."—Booklist Online
"Spare text blends with trios of jaunty watercolor tableaux showing various dads interacting with their children. They engaging in imaginary play and practical partnerships, such as queen and jester, horse and rider, engine and railcar, crane and cargo, all conducted "side by side". One special spread shows "Learner" dad in a beret, all tangled as he attempts to mimic his "Teacher" daughter, who instructs him on jumping rope. Raschka amazes by conveying profound emotion in a simple, unpretentious way. VERDICT: The two-time Caldecott medalist again delivers "awws" with this festival of fathers. Perfect for one-on-one sharing, side by side."—School Library Journal, Starred review
"A heartfelt and playful ode to the father-child relationship."—Absolutely Mama
"Raschka amazes by conveying profound emotion in a simple, unpretentious way."—School Library Journal
"Readers will have no doubt as to the emotions of the characters, and they are sure to find both mirrors of their own play as well as ideas for new ways to interact with their grown-ups. Parents and children will seek out some side-by-side time after sharing this."—Kirkus Reviews
"Rhythmic and soothing... Joyous, imaginative play and affectionate closeness [is] depicted in Raschka's relaxed, gestural watercolors."—Seven Impossible Things Before Breakfast
"Having been a father, and now a put-'em-on-my-back-and-charge-up-and-down-the-stairs grandpa, I am a sucker for this touching book. It makes me smile, smile, and smile."—Richie Partington
"A very sweet and lovely picture book that celebrates the relationship between fathers and children... We see the different roles that dad and child play as they go through childhood, such as horse and rider, mountain and climber, boat and captain - and doing all of these things side by side. There is a mix of ethnicities in the different dad/child pairs throughout the book, and the diversity feels natural and real."—BookRiot
"A perfect gift for Father's Day, or any occasion that celebrates dads. This could also be a good prompt for writing and drawing about one's own father."—A Kids Book a Day
"If you want a great new Father's Day picture book, Side by Side: A Celebration of Dads by Chris Raschka is a great place to start... A great book for early readers, or even for dads of older kids who appreciates sweet simplicity."—Cool Mom Picks
"A love letter to the playfulness and love between a father and child."—Mrs. Knotts Book Nook blog
"If you need a picture book to gift to a dad for Father's Day, look no further!""—Mia Wenjen, Pragmatic Mom
"Raschka's familiar watercolors are the showstoppers here... The message is clear: it's not only in these paired metaphors that father and child enjoy each other's company; it's all the time. Today and tomorrow. Side by side."—Horn Book STARRED Review ?
"For readers who prefer to see fathers depicted as capable and authoritative, as well as tender and playful... Combine[s] captivating illustration with a respect for manliness. Chris Raschka pairs brief phrases with exuberant watercolor portraits of fathers and their children in Side by Side."—The Wall Street Journal
Phaidon Press, 9780714878669, 48pp.
Publication Date: March 11, 2019
About the Author
Chris Raschka is the creator of many distinguished and award-winning books for children. He has received two Caldecott Medals: for The Hello, Goodbye Window, by Norton Juster; and for his own A Ball for Daisy. He also received a Caldecott Honor for Yo! Yes? Five of his titles have been named New York Times Best Illustrated Children's Books. Chris Raschka was the US nominee for the Hans Christian Andersen Award in 2012 and 2016. He lives in NYC with his family.