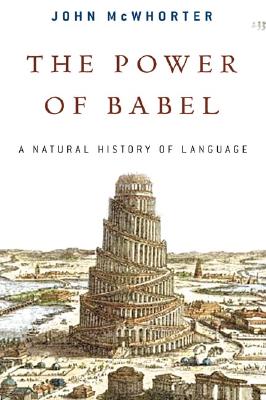 The Power of Babel: A Natural History of Language (Hardcover)
A Natural History of Language
W. H. Freeman, 9780716744733, 336pp.
Publication Date: January 1, 2002
* Individual store prices may vary.
or
Not Currently Available for Direct Purchase
Description
There are approximately 6000 languages on earth today, the descendants of the tongue first spoken by homo sapiens some 150,000 years ago. How did they all develop? What happened to the first language?
In this irreverent romp through territory too often claimed by stodgy grammarians, McWhorter ranges across linguistic theory, geography, history, and pop culture to tell the fascinating story of how thousands of very different languages have evolved from a single, original source in a natural process similar to biological evolution. While laying out how languages mix and mutate over time, he reminds us of the variety within the species that speaks them, and argues that, contrary to popular perception, language is not immutable and hidebound, but a living, dynamic entity that adapts itself to an ever-changing human environment.
Full of humor and imaginative insight, The Power of Babel draws its examples from languages around the world, including pidgins, creoles, patois and nonstandard dialects. McWhorter also discusses current theories on what the first language might have been like, why dialects should not be considered "bad speech" and why most of today's languages will be extinct in 100 years.
The first book written for the layperson about the natural history of language, Power of Babel is a dazzling tour de force that will leave readers anything but speechless.
About the Author
John McWhorter is Associate Professor of Linguistics at the University of California at Berkeley. His specialty is pidgin and creole languages, about which he has written two academic books. He is the author of "Word on the Street: Debunking the Myth of a Pure Standard English," and the best-selling "Losing the Race: Self-Sabotage in Black America." McWhorter has been interviewed in "The New York Times, Newsweek" and other periodicals and he has appeared on numerous radio and television shows, including D"ateline NBC, The Today Show" and "National Public Radio's Talk of the Nation." He lives in Oakland, California.
Advertisement