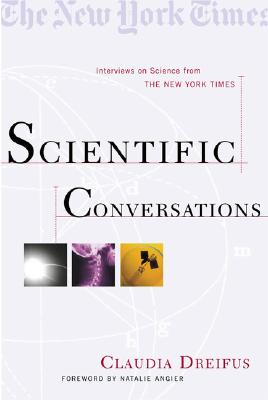 Scientific Conversations (Hardcover)
Interviews on Science from The New York Times
W. H. Freeman, 9780716746614, 288pp.
Publication Date: November 1, 2001
Other Editions of This Title:
Paperback (11/1/2002)
* Individual store prices may vary.
Description
Dr. Benjamin Carson, a pediatric neurosurgeon, describes what it feels like to dig around in someone's brain. Dr. Leon Lederman, Nobel laureate, displays the wry humor that has earned him the title :the Mel Brooks of the physics world.: Pulitzer Prize-winning author John McPhee reveals how he cam to terms with the vastness of geological time and that he once tied himself to a chair in order to write. Ira Flatow, host of National Public Radio's Science Friday, recalls how his childhood fascination with electrical outlets almost caused him to blow up his mother's bathroom. Astronomer Royal Sir Martin Rees discloses his astrological sign.
In these thirty-eight interviews, originally published in the weekly Science Times section of The New York Times, Claudia Dreifus brings all of her colorful personality to bear on her subjects, as well as an arsenal of philosophy, literature, current events, and an unmistakable curiosity. As each conversation unfolds, we learn surprising and fascinating things about some of the most intriguing figures and issues in science today. Dreifus's outsider status in the world of science is perhaps one of her greatest interviewing strengths. A political journalist for much of her career, she stumbled into a position at the Science Times. With little more scientific background that the average person, she scrambled to prepare for her meetings with some of the greatest minds across a broad range of disciplines-from astronomy to geology, from biology and medicine to computer science and mathematics. She soon found herself in a refreshingly candid environment, so unlike the one she had known on the political beat. It is from this perspective that she makes science tangible, accessible, and entertaining.
When you add a deep-rooted scientific curiosity to the savvy of a crack political reporter, you get more than just extraordinary chemistry: Claudia Dreifus reminds us that interviewing can be an art form.
About the Author
Claudia Dreifus has been a journalist since the 1960s. Before coming to the "Science Times" section of "The New York Times," she was known for her incisive interviews with international political figures and cultural icons. Her work has appeared in "The New York Times magazine, Playboy, Ms., The Progressive," and "Modern Maturity." A Senior Fellow at the World Policy Institute of the New School for Social Research, she lives in New York City.
Praise For Scientific Conversations: Interviews on Science from The New York Times…
"There is no format that makes science and scientists more digestible than a 'conversation' with an intelligent interlocutor who is intrigued with the subject. And there few journalists who are able to get scientists talking about their work with more lucidity than Claudia Dreifus."—Orville Schell, Dean of the Graduate School of Journalism, University of California, Berkeley

"Claudia Dreifus is the generation's answer to Oriana Fallaci, a savvy . . . interviewer who creates gorgeous dramas out of real-life conversations. This is a journalist who is also an artist."—Nadine Strossen, President, ACLU

"Claudia Dreifus gives readers the luxury of great conversation, and the necessity of personal bridges into the scientific world. Rarely has learning been so pleasurable."—Gloria Steinem

"Claudia Dreifus is a nonpareil of interviewers."—Studs Terkel

"Gathered here are nearly 40 interviews with not only widely recognized author-scientists such as Martin Rees and Stephen Jay Gould but also researchers rarely sought out by reporters. Disdainful of the interview candidates pushed on her by university flacks, Dreifus (among other approaches) would instead attend scientific conferences; one yielded a talk with an enthusiastic expert in birdsongs. Dreifus also seeks out lesser-known women scientists. If not always well represented in science, they are increasingly populating its disciplines, examples of whom, such as the director of the National Science Foundation (microbiologist Rita Colwell), recall, at Dreifus' prompting, the rampant sexism they have encountered and overcome. Although Dreifus does not have a science background, she is meticulous about doing preparatory work for each interview and often picks people who have not arrived in science along conventional routes, such as former cocktail waitress and NIH immunologist Polly Matzinger. A lively reprise from the paper's science section."—Gilbert Taylor, Booklist
or
Not Currently Available for Direct Purchase