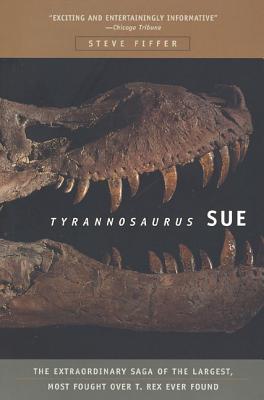 Tyrannosaurus Sue
The Extraordinary Saga of Largest, Most Fought Over T. Rex Ever Found
Paperback

* Individual store prices may vary.
Other Editions of This Title:
MP3 CD (12/25/2004)
MP3 CD (8/18/2015)
MP3 CD (12/25/2004)
Description
Over 65 million years ago in what is now South Dakota, a battle-scarred Tyrannosaurus rex matriarch—perhaps mortally wounded in a ferocious fight—fell into the riverbed and died. In 1990 her skeleton was found, virtually complete, in what many have called the most spectacular dinosaur fossil discovery to date.
And then another battle began - a "survival of the fittest" free-for-all involving commercial dinosaur hunters, gun-toting law officers, an ambitious federal prosecutor, a Native American tribe, jealous academics, an enterprising auction house, major museums, and corporate giants, all making their claim for the dinosaur named Sue. Before it was over, there would be claims and counterclaims; charges of checkbook-polluted science, criminal larceny, and vengeful prosecutions; and devastating prison terms. And the gavel would come down on the largest-ever ($8.36 million) auction price tag for a fossil, paid by Chicago's Field Museum, with help from Disney and McDonald's.
Capturing the whole range of characters and issues embroiled in the fight for Sue, author Steve Fiffer communicates both the excitement over Sue's discovery and the motivations, maneuverings, and absurdities of the various forces attempting to control her destiny.
Praise For Tyrannosaurus Sue: The Extraordinary Saga of Largest, Most Fought Over T. Rex Ever Found…
"A short, racy nonfiction narrative, one that combines the history of science (dinosaur paleontology) with the dramatic twists of a legal thriller . . . . Fiffer's thorough account should prove irresistible to readers with even a marginal interest in the legendary lizards – or in the less-sexy topics raised by this particular find, from Upper Midwest tribal disputes to pretrial publicity and the conduct of persecutions." —Publishers Weekly
"Witty, clear-eyed and down-to-earth. . . . I recommend highly that you read [Tyrannosaurus Sue] as the opening act to the museum extravaganza. It will help you understand how the museum (and its corporate partners, McDonald's and Disney) came to pay $8.36 million for a pile of rocks." —Chicago Sun-Times
"Fiffer keeps the reader engrossed by sprinkling personal information, historical perspective, and scientific tidbits into his narrative . . . Virtually anyone with an interest in dinosaurs, paleontology, conspiracy theories, courtroom dramas, or the struggle of a little guy against incredible odds should enjoy Tyrannosaurus Sue." —BookPage
"Professionals, armchair paleontologists, and those of us who never outgrew our childhood fascination with dinosaurs will enjoy this excursion into the recent history of a fine fossil specimen . . . . Fiffer's text is jargon-free and riveting, but his tale is sobering." —Fatbrain.com
"A mind-boggling account of what can happen when you dig up some dinosaur bones." —Parade Magazine
"This book is...witty, clear-eyed and down-to-earth. I recommend highly that you read it." —Chicago Sun-Times Book Week
"In the hands of Steve Fiffer, Sue's story comes alive as a darkly fascinating, Kafkaesque tale. It is exciting and entertainingly informative, as a biography of a single fossil (Sue) and as a history of paleontology steeped in all its eccentricities and schoolboy wonder." —Chicago Tribune
"A riveting tale, well-written and just unsettling enough to provoke thought and discussion." —Amazon.com
"Fiffer recounts these events in compelling detail. Highly recommended." —Library Journal
"A century after the Great Bone Wars of Cope and Marsh hit the headlines, Sue emerged from the earth--only to become embroiled in another fin de siecle fossil fiasco. Steve Fiffer relates Sue's fascinating story with flair, and with sensitivity to those who took part in the saga." —Blake Edgar, editor of Dinosaur Digs and co-author of From Lucy to Language
"A blow-by-blow account for the struggle for control of the world's most famous dinosaur – a real tour de force!" —Kenneth Carpenter, Department of Earth Sciences, Denver Museum of Natural History
"Steve Fiffer has written a lively, must-read book that untangles the complexities of the "story of Sue" for all of those interested in something that can never happen again. Or could it?" —Philip J. Currie, Curator of Dinosaurs at the Royall Tyrrell Museum of Palentology in Alberta
"For more than 65 million years, Sue rested in her Cretaceous coffin. She awoke to a world of legal battles and rivalry as fierce in their way as anything she faced when alive. Steve Fiffer tells her compelling story as well as it could be told. This book is a must for anyone with even the slightest interest in the interplay between science and the law." —Dr. James L. Powell, President and Director, Los Angeles County Museum of Natural History and author of Night Comes to the Cretaceous
W. H. Freeman, 9780716794622, 272pp.
Publication Date: May 1, 2001
About the Author
Steve Fiffer is a lawyer, journalist, and author. With his wife, Sharon, he has co-edited three anthologies of original essays by contemporary writers—Home, Family, and Body (McKay, David). Fiffer is the author of Three Quarters, Two Dimes and a Nickel: A Memoir of Becoming Whole (Free Press, 1999). He is co-author, with celebrated civil rights attorney Morris Dees, of A Season for Justice (Scribners) and Hate Trial (Villard)—a 1993 New York Times Notable Book of the Year. His personal essays and features have appeared in The New York Times Magazine, Chicago Tribune Sunday Magazine, and the Midwesterner. He and his wife live with their three children in Evanston, Illinois.