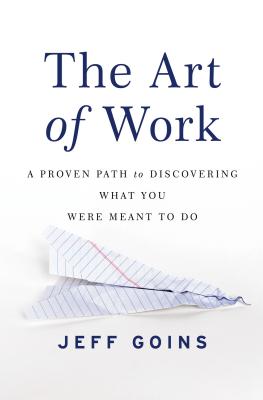 The Art of Work (Paperback)
A Proven Path to Discovering What You Were Meant to Do
HarperCollins Leadership, 9780718022075, 240pp.
Publication Date: March 24, 2015
* Individual store prices may vary.
Description
On his thirtieth birthday, Jeff Goins quit his job and began his pursuit of becoming a full-time writer. While certainly that was a milestone day, it was still less significant than the ones that lead to that memorable moment. The journey he took leading up to that daring decision involved twists, turns, and surprises he never expected. In the end, he found his life's purpose, his calling; and in The Art of Work, he wants to share his journey with you and help you, too, discover your life's work, along with the invaluable treasure that comes with doing so.As writer, keynote speaker, and award-winning blogger Jeff Goins explains, our search for discovering the task we were born to do begins with passion but does not end there. Only when our interests connect with the needs of the world do we begin living for a larger purpose. Those who experience this intersection experience something exceptional and enviable. Though it is rare, as Jeff discovered along the journey he shares in this one-of-a-kind book, such a life is attainable by anyone brave enough to try. Through personal experience, compelling case studies, and current research on the mysteries of motivation and talent, Jeff shows readers how to find the vocation they were meant for and what to expect during the long, arduous journey to discovering and pursuing it.
About the Author
Jeff Goins is the author of The In-Between, Wrecked, and two successful ebooks: You Are a Writer (So Start Acting Like One) and The Writer's Manifesto. A professional blogger and public speaker, he also podcasts and hosts a well-attended online course, TribeWriters. His work has been featured at Copyblogger, Problogger, Write to Done, Relevant, and MichaelHyatt.com, among other outlets. He lives with his family outside of Nashville, Tennessee.