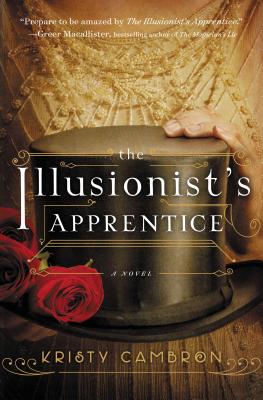 The Illusionist's Apprentice
Paperback

* Individual store prices may vary.
Other Editions of This Title:
Digital Audiobook (3/6/2017)
Hardcover, Large Print (4/19/2017)
Compact Disc (3/7/2017)
MP3 CD (3/7/2017)
Compact Disc (3/7/2017)
Description
Harry Houdni's one-time apprentice holds fantastic secrets about the greatest illusionist in the world. But someone wants to claim them . . . or silence her before she can reveal them on her own.
Thomas Nelson, 9780718041502, 368pp.
Publication Date: March 7, 2017
1. Though the world sees Wren Lockhart as an illusionist on a stage, Jenny Charles is the real woman who lives behind the scenes. How are the personas of these two women different, and how does Elliot manage to see the authenticity behind both? In what ways do Wren and Elliot finally unmask who they truly are?
2. Harry Houdini lived a life of adventure from the stage. In this story, however, we imagine him as a wise mentor offstage, helping to shape Wren into the skilled entertainer she would one day become. As Houdini began to ask deeper questions about faith and spirituality in his final years, how did the debunking of false mediums affect Wren's view of their shared vaudeville world? Though the story opens months after Houdini's death, how was he ever-present in Wren's journey?
3. Wren and Charlotte experienced tragedy in their young lives at the hands of their father. Though she was able to overcome the pain of her past, how did Wren eventually learn to trust again? Did Olivia's sacrifice for her daughters impact Wren's ability to reopen her heart to others?
4. The atmosphere of Boston in the late 1920s was flavored by the sights, sounds, and settings of vaudeville, from the experiences of many secondary characters: Connor, Amberley, Irina, Josiah, Al, Olivia, and Franklin. Which characters were living a life of illusion themselves, and why?