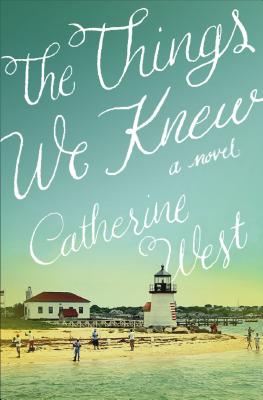 The Things We Knew
Paperback

* Individual store prices may vary.
Other Editions of This Title:
Library Binding, Large Print (1/1/2017)
Description
A can't-miss story of family and lies, secrets and repressed memories, set against the stunning backdrop of Nantucket.
"An exceptional and poignant escape to Nantucket." --Kathi Macias
Lynette Carlisle witnessed her mother's death twelve years ago. But her memory only speaks through nightmares. Her four older siblings each left their Nantucket home as soon as they were able, never speaking of that tragic day.
Lynette alone stays with their father on the island, and when it becomes clear they are losing him to Alzheimer's, she calls her siblings home, each of them bringing along their own secrets. They aren't the only ones returning to the island--their childhood neighbor, Nick, comes home to his own family drama, never expecting a Carlisle family reunion. As Lynette spends time with Nick, she suspects he knows more about their mother's death than he lets on.
With summer storms raging around them and their father speaking more and more of their mother's death, the Carlisle siblings must face the truths threatening to surface. And these truths will either restore their shattered relationships or separate the siblings forever.
"A poignant, multi-faceted novel that pulled me in deeper with every turned page, The Things We Knew so adeptly explores the power of truth and its ability to set us all free. I can't wait for readers to fall as hopelessly in love with Nick and the Carlisle family as I did. Well done, Catherine West "--Katie Ganshert, award-winning author
"A beautiful exploration of the bonds that tie us together as family and the secrets that sometimes unravel those threads. Catherine West builds a world worth entering and characters that linger long after the last page is turned." --Julie Cantrell, New York Times and USA TODAY bestselling author
"Smartly written and highly engaging, Catherine West's The Things We Knew dazzles, piercing the shadows of a family's tragedy with the light of love." --Billy Coffey
Thomas Nelson, 9780718078102, 352pp.
Publication Date: July 12, 2016
About the Author
Catherine West writes stories of hope and healing from her island home in Bermuda. When she's not at the computer working on her next story, you can find her taking her Border collie for long walks on the beach or tending to her roses and orchids. She and her husband have two grown children. Visit her online at catherinejwest.com, Facebook: CatherineJWest, and Twitter: @cathwest.
In The Things We Knew, Lynette's attachment to Wyldewood, the house she grew up in, is very strong. Why do you think she feels this way? Have you ever felt so attached to a particular home or place?
Change is often unavoidable. In The Things We Knew, Lynette's life is changing dramatically, and she's doing her best to keep up. Have there been times in your life when everything seemed to be changing too fast and you just wanted it to stop? How did you handle it?
Which character/s in The Things We Knew did you relate to most and why?
Grace is a prevalent theme throughout the story. It's often the most difficult thing to do, show another person grace, especially when you think they don't deserve it. Have you ever been in a situation where you chose grace over judgment? How did that make you feel? Have you been on the receiving end of somebody extending grace to you?
Estrangement and fractured family relationships are common in our communities, but so difficult to navigate. What do you think the Carlisle siblings might have done differently to stay closer during their turbulent childhood years? Why do you think they all chose to go their separate ways?