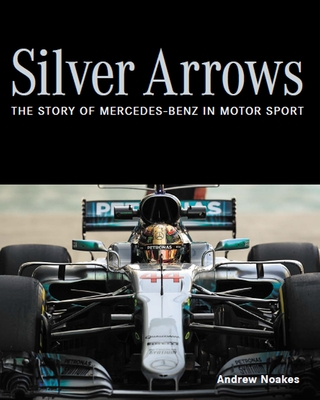 Silver Arrows
The story of Mercedes-Benz in motor sport
Hardcover

* Individual store prices may vary.
Description
Lewis Hamilton's record-breaking achievements in F1 are the latest successes in a glorious motor sport record for Mercedes and Benz that stretches back to the very first races in the 1890s.
Silver Arrows
celebrates the achievements of Mercedes and Benz in motor sport, from the very earliest days to the record-breaking success of Lewis Hamilton in F1. It covers every major era and form of motor sport including:
The pioneers of motor sport and the 'White Elephant' SSK
The massively powerful 1930s Grand Prix cars
Le Mans, sports and F1 cars of the 1950s
Rally cars from the 1950s to the 1970s
Touring car racing and the DTM
The  Mercedes return to racing in Group C sports cars
F1 engines and the Mercedes Grand Prix team
Formula E and the future of Mercedes in motor sport
The Crowood Press UK, 9780719840159, 292pp.
Publication Date: June 7, 2022
About the Author
Andrew Noakes has been writing about cars for more than 20 years. He was trained as an automotive engineer but decided to go into motoring journalism, working for Fast Car magazine before launching the classic car title Classics. He has been freelance since 2002, writing on cars for a wide range of magazines and websites, and since 2006 has also taught motoring journalism at Coventry University. He is the chairman of the Guild of Motoring Writers in 2016-18.
Andrew is the author of more than a dozen motoring books including The Ultimate History of Aston Martin, Aston Martin DB7: The Complete Story and Aston Martin – Model By Model. He lives in Warwickshire.