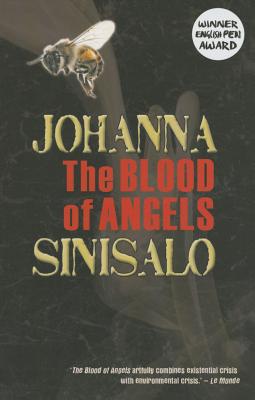 The Blood of Angels (Paperback)
Peter Owen Publishers, 9780720610048, 240pp.
Publication Date: October 1, 2014
* Individual store prices may vary.
Description
Another haunting novel of eco-speculation from Johanna Sinisalo, the award-winning author of Troll and a powerhouse of the Finnish science fiction and fantasy scene
It is claimed Albert Einstein said that if bees disappear from the earth, mankind has four years left. When bee-vanishings of unprecedented scale hit the United States, Orvo, a Finnish beekeeper, knows all too well where it will lead. And when he sees the queen dead in his hives one day, it's clear the epidemic has spread to Europe, and the world is coming to an end. Orvo's special knowledge of bees just may enable him to glimpse a solution to catastrophe: he takes a desperate step onto a path where only he and the bees know the way but it propels him into conflict with his estranged, but much-loved son, a committed animal activist. A magical plunge into the myth of death and immortality, this is a tale of human blindness in the face of devastation—and the inevitable.
About the Author
Johanna Sinisalo is a Finnish science fiction and fantasy writer who won the James Tiptree Jr. Award, as well as the most acclaimed Finnish literary prize, the Finlandia, for her novel" Troll." Her novel "Birdbrain" wasone of"Publishers Weekly"'s Top 10: Science Fiction & Fantasy titles and "Locus"'s Top 10 Fantasy Novelsin 2011. She also edited "The Dedalus Book of Finnish Fantasy" andwas nominated for a Nebula Award for her short story "Baby Doll."
Praise For The Blood of Angels…
"Sinisalo's novel engages in a fierce discussion of ecological choices while also imagining an unusually picturesque, Orpheus-tinged search for love beyond death." —Kirkus Reviews
"Stunning prose take the reader down a twisting path between gritty ecoterrorism and another world."  —Library Journal
"Beautifully well-written on important issues, it is a novel to check out and a quick read that will linger like honey on the tongue." —The Skiffy and Fanty Show

"oddly haunting and almost elegiac in tone . . . It sounds like a backhanded compliment to say this is the finest novel we're likely to see about Colony Collapse Disorder, but we're fortunate to have one this good at all." —Locus Magazine
"This hard-hitting fantasy is based in a good degree of reality and its blend of environmental and personal crisis creates a gripping narrative that's truly hard to put down." —California Bookwatch
"...a gorgeous, heartbreaking tale." —Washington Post
"...one of the best narratives of ecological collapse that I've read in quite some time."  –OF blog
"At a time when much of science fiction has been criticized for being bland, uncommitted or retrospective, Johanna Sinisalo's The Blood of Angels is a raw, gritty, angry book that is actually about something . . . I passionately admire this book."  —Strange Horizons
or
Not Currently Available for Direct Purchase