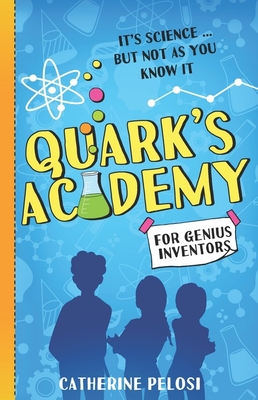 Quark's Academy (Paperback)
Lothian Children's Books, 9780734417800, 240pp.
Publication Date: September 24, 2019
* Individual store prices may vary.
Description

SCIENCE IN PROGRESS - ENTER AT YOUR OWN RISK!

Junior science geniuses Augustine, Celeste and Oscar can't believe their luck when they're accepted into an elite and mysterious science academy summer camp run by the elusive Inventor Quark.

From the moment they step inside the gates of Quark's Academy at the end of Molecule Drive, they know they're in for a week they'll never forget. But things at the academy are not quite what they seem, and the three quickly realise that they'll need to put their squabbles aside and their heads together if they're ever to get out of there alive...

A page-turning adventure for readers aged eight to twelve, QUARK'S ACADEMY is bound to cause a hair-raising reaction!

'an engaging and entertaining debut for readers aged eight and up with an interest in STEM - or those who just love a well-paced adventure story with fantastical elements.' 4.5 stars - BOOKS + PUBLISHING
About the Author
Catherine Pelosi is a Sydney-based children's book author. When she was younger, she loved two things in equal measure: animals and writing stories. For a long time she wanted to be a zoologist. Catherine has had several jobs working with animals, including in wildlife rescue, as a dinosaur tour guide and marketing for an animal shelter in London, but her love of writing never went away. These days, she writes as often as she can. Catherine hasn't lost her love of animals, however, and you will often find one or two roaming through her stories. QUARK'S ACADEMY is Catherine's first novel; SOMETHING FOR FLEUR is her first picture book.
Praise For Quark's Academy…
Three young inventors are delighted to begin a week-long program at an outlandish hi-tech science academy. No parents are allowed, since they could distract the scientists from their important work. The week starts with competition and suspicion as each character works on their own private inventions. But there are also sinister activities happening at the academy. A tentative friendship forms between our heroes as they figure out what's going on and find a way to escape. Quark's Academy is a rollicking read. The science is loopy and exaggerated, which makes the story entertaining and unpredictable. The plot hinges on the rich imagination of children - a sustainable resource if ever there was one. Whether or not they're interested in science, readers between eight and 12 will have fun with this book.—Adelaide Advertiser