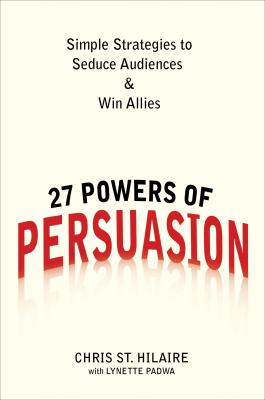 27 Powers of Persuasion
Simple Strategies to Seduce Audiences & Win Allies
Hardcover

* Individual store prices may vary.
Other Editions of This Title:
Paperback (9/6/2011)
Paperback (3/1/2011)
Description
Successful persuasion is about reading your audience-of one or one million-and creating a message that aligns with what they already believe. As a message strategist for some of the most famous names in America, Chris St. Hilaire knows this better than anyone. He has taught politicians how to persuade voters, attorneys how to persuade juries, and executives how to persuade CEOs.
Drawing on the techniques St. Hilaire perfected while working with chief figures in the major communications disciplines-politics, marketing, journalism, and the law-"27 Powers of Persuasion" provides practical strategies that have helped his clients win multimillion-dollar court cases and major political campaigns for the past eighteen years. You'll learn how to:
*Persuade people without browbeating them.
*Unite with your audience, not conquer them.
*Use language that lets people agree with you on their terms.
*Get people to see things your way and feel good about it.
With provocative excerpts from focus groups and courtroom testimony, behind-the-scenes insights from some of the nation's canniest political operatives, and stories pulled from headlines and corporate hush files, "27 Powers of Persuasion" delivers tactics you can start using the moment you close the book.
Praise For 27 Powers of Persuasion: Simple Strategies to Seduce Audiences & Win Allies…
"...useful primer in how to become a more confident and skilled businessperson."
-Orange Coast Magazine

"I'm enthusiastic about [St. Hilaire's] approach to persuasion, which is very simple, and which is fundamentally about positivity: making other people feel good about themselves makes them feel good about you."
-Charles Purdy, Monster.com Jobs Blog

"27 Powers of Persuasion offers readers some powerful new ideas on how to get others to follow you."
-CNBC

"St. Hilaire provides...interesting and useful methods for presenting ideas.... He's practical...though he very wisely recognizes how humans think and act. His anecdotes are apt and instructional..., and show how executives and others can present their thoughts in ways that are palatable to others without necessarily compromising or losing integrity."
-Miami Herald

"In each chapter, St. Hilaire and co-writer Lynette Padwa explain a rule of persuasion, share successes and offer insight. This book is a valuable resource for current and future leaders in the workplace and beyond."
-BookPage

"Chris St. Hilaire's 27 Powers of Persuasion is full of smart strategies to help you communicate more effectively. Take this book to heart and start winning people over right away!"
-- James W. Robinson, Senior Vice President, U.S. Chamber of Commerce

"27 Powers of Persuasion offers a few "I knew that" moments, with even more "I should have known that" and "I wish I had known that" ones...Not even halfway through the book, I found myself employing changes to the method and manner by which I communicated with staff, clients, adversaries, judges, and the rest of the business world...St. Hilaire's methods flat out work."
--Phillip E. Friduss, Defense Resource Institute Program Chair, Annual Civil Rights and Governmental Liability Program, New Orleans, LA; 7- Time Georgia Superlawyer

"Whether your audience is a voter, a consumer, or a juror, whether you're trying to convince a friend, a spouse, a son or a daughter, Chris St. Hilaire's 27 Powers of Persuasion has the answers you'll need to win people over."
-- Dan Schnur, Director, Jesse M. Unruh Institute of Politics, USC

"Inspiring, thought provoking, a masterful tool for just about any industry. The entire book had me captivated from Power #1 through #27! I learned a little about myself as I read and adapted the chapters to my own business and personal life."
-- Heidi A. Miller, Founder and former CEO of Heidi's Frozen Yogurt

"I hire Chris St. Hilaire for my most difficult trials, now you can use his 27 Powers of Persuasion at any time."
-- David Batten, Attorney-at-Law, Cranfill Sumner & Hartzog; America's Best Lawyers: Category "Bet the Company Litigation"

"Everyone needs to understand the power of their own persuasion. Chris St. Hilaire's book gives readers in plain English the ability to succeed in 27 easy pieces."
-- Kerri Zane, Emmy Award winning television producer

"Every trial attorney would be wise to put aside his or her ego and read this book. The advice in this book will change the way you present arguments, in court and out of court, and will make any attorney a more powerful advocate."
-- Doug Haubert, City Prosecutor, Long Beach, California

"Utilizing the strategies in 27 Powers of Persuasion will make you a better, more effective communicator in business and in life."
-- Hadi Makarechian, University of California Board of Regents

"Chris St. Hilaire's 27 Powers of Persuasion offers creative and powerful strategies I immediately put to use in guiding my board of directors through a series of challenging issues."
-- Tara Balfour, CEO/Chair, Cranbrook Capital Advisors
Prentice Hall Press, 9780735204515, 240pp.
Publication Date: September 7, 2010
About the Author
Lynette Padwa is the author of Everything You Pretend to Know and Are Afraid Someone Will Ask and the coauthor of several other books. She lives in Los Angeles with her husband and son.
or
Not Currently Available for Direct Purchase