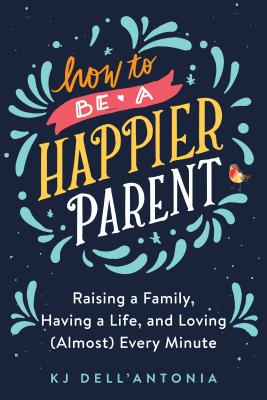 How to be a Happier Parent
Raising a Family, Having a Life, and Loving (Almost) Every Minute
Hardcover

* Individual store prices may vary.
Other Editions of This Title:
Digital Audiobook (8/20/2018)
Paperback (6/2/2020)
Description
An encouraging guide to helping parents find more happiness in their day-to-day family life, from the former lead editor of the New York Times' Motherlode blog.

In all the writing and reporting KJ Dell'Antonia has done on families over the years, one topic keeps coming up again and again: parents crave a greater sense of happiness in their daily lives. In this optimistic, solution-packed book, KJ asks: How can we change our family life so that it is full of the joy we'd always hoped for? Drawing from the latest research and interviews with families, KJ discovers that it's possible to do more by doing less, and make our family life a refuge and pleasure, rather than another stress point in a hectic day. She focuses on nine common problem spots that cause parents the most grief, explores why they are hard, and offers small, doable, sometimes surprising steps you can take to make them better. Whether it's getting everyone out the door on time in the morning or making sure chores and homework get done without another battle, How to Be a Happier Parent shows that having a family isn't just about raising great kids and churning them out at destination: success. It's about experiencing joy--real joy, the kind you look back on, look forward to, and live for--along the way.
Praise For How to be a Happier Parent: Raising a Family, Having a Life, and Loving (Almost) Every Minute…
"KJ Dell'Antonia has been at the center of the conversation about modern parenting for over a decade. During that time, she's become an astute, experienced, sympathetic, and knowledgeable companion and provocateur. Also, a great writer. All of those qualities are on display here. How to Be a Happier Parent is sure to help many harried moms and dads find more joy in the everyday chaos of their lives."
–Bruce Feiler, author of the New York Times bestseller The Secrets of Happy Families
 
"Finally! A parenting book not about fine-tuning your child for some distant (and questionable) marker of success, but a book that focuses on the real task of parenting-creating a safe, warm, loving, and yes, happy family."
–Madeline Levine, Ph.D., author of the New York Times bestsellers The Price of Privilege and Teach Your Children Well
 
"An ideal blend of humble confessions, blunt reckonings, and relatable humor, offered with zero judgment and plenty of empathy. As this wise expert comes to feel like a close friend, we trust that we, too, can be far happier than we'd realized."
–Julie Lythcott-Haims, author of the New York Times bestseller How to Raise an Adult
 
"When it comes to parenting, KJ knows the research and the reality. We can be happier parents—if, that is, we understand what gets in our way and what we can change. With real advice and fascinating science, this book helps you be the parent you want to be."
—Charles Duhigg, author of the New York Times bestsellers The Power of Habit and Smarter Faster Better
 
"Parenting expert KJ Dell'Antonia draws on the latest research to find ways to make life happier with her family of four children. She's candid (and often hilarious) about her own struggles, and her wise, practical advice for tackling common pain points such as chores, homework, sibling squabbles, devices, and discipline rings true, because she's tried it all herself."
—Gretchen Rubin, author of the New York Times bestseller The Four Tendencies
 
"How to Be a Happier Parent is a revelation, an entire book intended to support rather than undermine, parents who wish to lead with love and trust that everything else will follow. I am so grateful for her straight talk, sincerity, and willingness to share her own mistakes."
—Jessica Lahey, author of the New York Times bestseller The Gift of Failure
 
"In this timely book, Dell'Antonia is realistic, grounded, smart and, importantly, specific. She provides the real-world experience and the research to understand what might be keeping you from feeling happy and then describes what you might do to make it better. This is a great book but, most importantly, it is a useful book, and I recommend it to any parent who sometimes feels overwhelmed."
—Celeste Headlee, author of We Need to Talk: How to Have Conversations That Matter, Named One of NPR's Best Books of 2017
 
"KJ Dell'Antonia knows the terrain of family life and has discovered fresh paths through the thickets. Reading this book will, without doubt, leave you a more grounded, relaxed, and yes, a happier parent."
—Lisa Damour, author of the New York Times bestseller Untangled: Guiding Teenage Girls Through the Seven Transitions into Adulthood
 
"With parenthood, it's impossible to enjoy every minute. But you can enjoy more of your minutes if you follow KJ's researched, practical tips to build happiness into the realities of daily life. Highly recommended for anyone whose kids sometimes drive them crazy."
–Laura Vanderkam, author of Off the Clock
 
"KJ never offers some silver bullet solution pretending it works for all people in all situations. How to Be a Happier Parent gives parents a wealth of insight to guide them and empowers them to make the best choices for their lives."
–Dan Blank, author of Be the Gateway
 
"It is impossible to read KJ's book and not find yourself breathing deeply. It's like a meditation session and she's the calming voice, equal parts wisdom and honesty and hope. My only regret is that I didn't have this book on my bed stand back when my boys were younger, because we all might have come through with a few fewer bumps and blowups."
–Lisa Belkin, creator of the Motherlode blog

"KJ writes: 'the world is shifting so quickly under our feet.' And this is true. Parents are dizzy and confused by a landscape so different than the one in which they were raised. This book, with its practical, specific, beautifully organized, easy access takeaways will ground them. I love the trite-busting mantras…and her fresh take on age old parenting dilemmas. Brilliant!"
—Wendy Mogel, author The Blessing of a Skinned Knee and Voice Lessons

"In How to Be a Happier Parent: Raising a Family, Having a Life, and Loving (Almost) Every Minute she [KJ] shares her knowledge in a breezy style and bite-size format that's easy to read between toddler meltdowns."
—Los Angeles Times

"Delightful. It's not really about why it's OK to drop the ball occasionally (frequently). But it is about giving yourself permission, as a parent, to prioritize and work toward your own happiness, even if that means your children don't get 100 percent of your attention and energy and money 100 percent of the time."
—The Chicago Tribune
Avery, 9780735210479, 320pp.
Publication Date: August 21, 2018
About the Author
KJ Dell'Antonia is a writer and a regular contributor to the New York Times, where she wrote and edited the Motherlode blog from 2011 until 2016 and was a contributing editor to the Well Family section from 2016-2017. Prior to this, she was one of Slate's XX Factor bloggers and a contributor to Slate, where she covered parenting and a broad range of subjects, from legal issues to pop culture. KJ lives in Lyme, New Hampshire, with her husband and four children.
or
Not Currently Available for Direct Purchase