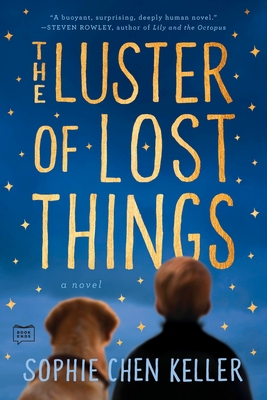 The Luster of Lost Things
Paperback

* Individual store prices may vary.
Other Editions of This Title:
Digital Audiobook (8/7/2017)
Description
In this story for readers of The Curious Incident of the Dog in the Night-Time and A Man Called Ove, when all seems lost, he finds what matters most.

Walter Lavender Jr. is a master of finding. A wearer of high-tops. A maker of croissants. A son keeping vigil, twelve years counting.
 
But he wouldn't be able to tell you. Silenced by his motor speech disorder, Walter's life gets lonely. Fortunately, he has The Lavenders—his mother's enchanted dessert shop, where marzipan dragons breathe actual fire. He also has a knack for tracking down any missing thing—except for his lost father.
 
So when the Book at the root of the bakery's magic vanishes, Walter, accompanied by his overweight golden retriever, journeys through New York City to find it—along the way encountering an unforgettable cast of lost souls.
 
Steeped in nostalgic wonder, The Luster of Lost Things explores the depths of our capacity for kindness and our ability to heal. A lyrical meditation on why we become lost and how we are found, from the bright, broken heart of a boy who knows where to look for everyone but himself.
Praise For The Luster of Lost Things…
"[E]nchanting....A delightful trek through and under New York streets."—Minneapolis Star Tribune

 "A book of rare elegance. . . . Keller understands the magic of New York City . . . and how sometimes listening to those most people hurry past make us find something we did not know we were missing. This book is one of those things: Take the time to find it." – Newark Star-Ledger

"[R]ewards those willing to savor the linguistic riches and quirky characters, artfully provided by the author. With its strong story line and magic realism, this will appeal to readers of Joanne Harris' Chocolat and the works of Alice Hoffman." —Booklist

"Insightful....This is a feel-good, message-driven story about the restorative power of human connectedness and how acts of kindness can ultimately change lives."—ShelfAwareness

"A buoyant, surprising, deeply human novel that underscores how easy it is to become lost in this great big world, and how affecting it is to be found. It's no small bit of irony that I completely lost myself in these pages. The Luster of Lost Things is every bit as delicious as the magical treats from the family bakery at the heart of this charming debut."—Steven Rowley, author of Lily and the Octopus

"Keller's style is simple and often beautiful, and she infuses the novel with flashes of subtle humor and mouthwatering descriptions of sugary confections." —Kirkus Reviews

"The true magic of New York City shines especially bright thanks to a sprinkle of literary magic in this tender and original debut. Readers will root for the endearing young Walter along every step of his remarkable odyssey."—Meg Donohue, USA Today bestselling author of Dog Crazy: A Novel of Love Lost and Found

"Sophie Chen Keller's enchanting debut melts kindness and action together into a tale of wonder and magic. I savored each tasty morsel as Walter and his valiant dog, Milton, began their extraordinary quest—where the seeking became more important than the finding. Keller's writing reminded me of Adriana Trigiani—the words are so perfectly chosen that missing even one would lessen the enjoyment."—Amy Reichert, author of The Coincidence of Coconut Cake 

"The book takes its readers on a magical odyssey through New York." —Falmouth Review

"The Luster of Lost Things is about opening your heart to others and allowing yourself to believe in the wonder and magic of life. Young hero, Walter Lavender, uses his extraordinary talents to track down what he holds dearest to himself, and his family, assisted by a myriad of compelling, curious characters, usually hidden away from the public eye. In doing so, he shows us how to be brave and open-hearted, and to never give up trying. Unique and unforgettable, this is storytelling at its finest."—Phaedra Patrick, author of The Curious Charms of Arthur Pepper
G.P. Putnam's Sons, 9780735210783, 336pp.
Publication Date: August 8, 2017
About the Author
Sophie Chen Keller was born in Beijing, China, and was raised in Ohio and California. Her fiction has won several awards and has appeared in publications such as Glimmer Train and Pedestal. After graduating from Harvard, she moved to New York City, where she currently resides with her husband and a not-so-secret cabinet of sweets.