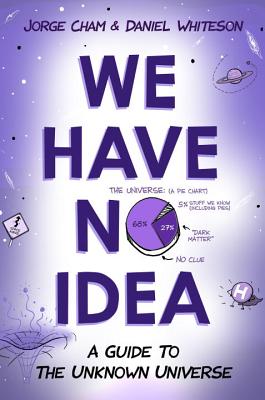 We Have No Idea
A Guide to the Unknown Universe
Hardcover

* Individual store prices may vary.
Other Editions of This Title:
Digital Audiobook (5/8/2017)
Paperback (5/8/2018)
Description
Prepare to learn everything we still don't know about our strange and mysterious universe 

Humanity's understanding of the physical world is full of gaps. Not tiny little gaps you can safely ignore —there are huge yawning voids in our basic notions of how the world works. PHD Comics creator Jorge Cham and particle physicist Daniel Whiteson have teamed up to explore everything we don't know about the universe: the enormous holes in our knowledge of the cosmos. Armed with their popular infographics, cartoons, and unusually entertaining and lucid explanations of science, they give us the best answers currently available for a lot of questions that are still perplexing scientists, including:

* Why does the universe have a speed limit?
* Why aren't we all made of antimatter?
* What (or who) is attacking Earth with tiny, superfast particles?
* What is dark matter, and why does it keep ignoring us?

It turns out the universe is full of weird things that don't make any sense. But Cham and Whiteson make a compelling case that the questions we can't answer are as interesting as the ones we can.

This fully illustrated introduction to the biggest mysteries in physics also helpfully demystifies many complicated things we do know about, from quarks and neutrinos to gravitational waves and exploding black holes. With equal doses of humor and delight, Cham and Whiteson invite us to see the universe as a possibly boundless expanse of uncharted territory that's still ours to explore.
Praise For We Have No Idea: A Guide to the Unknown Universe…
"Accessible and entertaining. . . . Cham and Whiteson distil the essence of the little we know—and the lots we have no idea about. . . . a very enjoyable read." —Nature

"This witty book reveals the humbling vastness of our ignorance about the universe, along with charming insights into what we actually do understand."
—Carlo Rovelli, author of Seven Brief Lessons on Physics and Reality Is Not What It Seems

"[A] lucid and irreverent survey of the many unsolved mysteries of our universe... Cham and Whiteson mesh comics, lighthearted infographics, and lively explanations to painlessly introduce curious readers to complex concepts in easily digestible chapters. This fun guide is just the ticket for science fans of any age." —Publishers Weekly (starred review)

"Cham and Whiteson perfectly balance hilarity and serious science." —Chemistry World

"[A] lively, agnostic book on physics and its discontents... An entertaining and educational review for anyone seeking to brush up on or build his or her knowledge." —Kirkus Reviews

"Science! Nerdy goodness! Cute illustrations! Big questions about the universe that we still can't answer! … Did I mention the cute illustrations?" —Book Riot

"You couldn't ask for better guides to the mind-bending mysteries of cutting-edge physics than Jorge Cham and Daniel Whiteson. They bring a whimsical light touch to some very heavy topics, and the result is a sheer delight for the reader."
—Jennifer Ouellette, author of The Calculus Diaries and Me, Myself and Why: Searching for the Science of Self

"Science knows a lot about the universe, but the real excitement is in what we don't know. And it's hard to imagine a more enjoyable way to explore the unknown than by reading this book. Jorge Cham and Daniel Whiteson will guide you through the biggest mysteries of the cosmos, smiling all the way."
—Sean Carroll, author of The Big Picture: On the Origins of Life, Meaning, and the Universe Itself
 
"A delightful combination of comedy and cosmology that is as charming as it is informative."
—Zach Weinersmith, creator of Saturday Morning Breakfast Cereal

"Not often do you encounter such an optimistic and fun exploration of human ignorance."
—Henry Reich, creator of MinutePhysics
 
"Accessible and hilarious (the two best things it is possible for a book to be), We Have No Idea not only explores WHAT we don't know, but WHY we don't know it.  You'd think that'd be plenty, but Cham and Whiteson also provide the most credible and up-to-date scientific explanations as to what some of the answers to these huge (and hugely important) questions might possibly be, PLUS puns."
—Ryan North, author of Romeo and/or Juliet and To Be or Not To Be

Riverhead Books, 9780735211513, 368pp.
Publication Date: May 9, 2017
About the Author
Jorge Cham is the creator of the popular online comic Piled Higher and Deeper, also known as PHD Comics. He earned his PhD in robotics at Stanford.

Daniel Whiteson is a professor of experimental particle physics at the University of California, Irvine, and a fellow of the American Physical Society. He conducts research using the Large Hadron Collider at CERN.
or
Not Currently Available for Direct Purchase