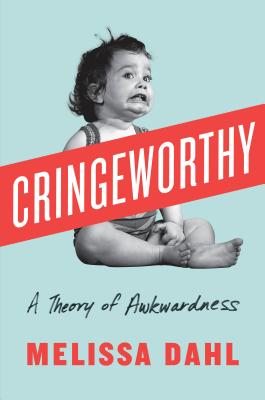 Cringeworthy
A Theory of Awkwardness
Hardcover

* Individual store prices may vary.
Description
New York magazine's "Science of Us" editor explains the compelling psychology of awkwardness, and asks: what if the moments that make us feel most awkward are actually valuable?

Have you ever said goodbye to someone, only to discover that you're both walking in the same direction? Or had your next thought fly out of your brain in the middle of a presentation? Or accidentally liked an old photo on someone's Instagram or Facebook, thus revealing yourself to be a creepy social media stalker?

Melissa Dahl, editor of New York magazine's "Science of Us" website, has. After a lifetime of cringing, she became intrigued by awkwardness: a universal but underappreciated emotion. In this witty and compassionate book, Dahl explores the oddest, cringiest corners of our world. She chats with strangers on the busy New York City subway, goes on awkward friend dates using a "Tinder-for-friendship" app, takes improv comedy lessons, and even reads aloud from her (highly embarrassing!) middle school diary to a crowd of strangers.

After all of that, she realizes: Awkward moments are opportunities to test yourself. When everyone else is pretending to have it under control, you can be a little braver and grow a little bigger--while remaining true to your awkward self. And along the way, you might find that awkward moments unite us in our mutual human ridiculousness.
Praise For Cringeworthy: A Theory of Awkwardness…
"Melissa Dahl provides a fascinating (and often hilarious) examination of the underdiscussed feeling of awkwardness. Her practical, penetrating insights reveal that understanding what's 'cringeworthy' can help us understand ourselves better--and create happier lives." --Gretchen Rubin, author of The Happiness Project and The Four Tendencies

"In this deeply researched and frequently hilarious book, Melissa Dahl shows that our capacity for cringing with embarrassment--at our own ineptness or other people's--is no mere psychological oddity. Her surprisingly uplifting message: through understanding awkwardness, we can learn to find more joy in the fundamental absurdity of being human." --Oliver Burkeman, author of The Antidote

"Cringeworthy unearths all the reasons we wince, flinch, and recoil, and offers emboldening advice for how to take them on. Awkwardness has never been so delightful." --Bianca Bosker, author of Cork Dork

"A stunningly captivating, clever, and comical look at why social discomfort haunts us long beyond our teenage years.  This book didn't just help me make sense of my most awkward moments. It liberated me from feeling embarrassed by them.  Well, most of them."--Adam Grant, author of Give and Take, Originals, and Option B with Sheryl Sandberg
Portfolio, 9780735211636, 304pp.
Publication Date: February 13, 2018
About the Author
Melissa Dahl is a senior editor for New York's The Cut, where she covers health and psychology. In 2014, she co-founded NYMag.com's popular social science site Science of Us. Her work has appeared in Elle, Parents and TODAY.com. Cringeworthy is her first book.