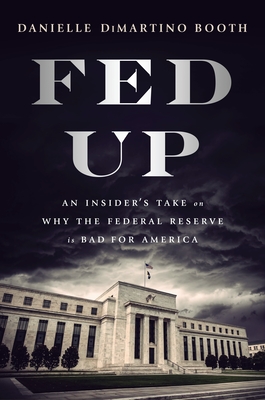 Fed Up
An Insider's Take on Why the Federal Reserve is Bad for America
Hardcover

* Individual store prices may vary.
Other Editions of This Title:
Digital Audiobook (2/13/2017)
Description
A Federal Reserve insider pulls back the curtain on the secretive institution that controls America's economy

After correctly predicting the housing crash of 2008 and quitting her high-ranking Wall Street job, Danielle DiMartino Booth was surprised to find herself recruited as an analyst at the Federal Reserve Bank of Dallas, one of the regional centers of our complicated and widely misunderstood Federal Reserve System. She was shocked to discover just how much tunnel vision, arrogance, liberal dogma, and abuse of power drove the core policies of the Fed.

DiMartino Booth found a cabal of unelected academics who made decisions without the slightest understanding of the real world, just a slavish devo­tion to their theoretical models. Over the next nine years, she and her boss, Richard Fisher, tried to speak up about the dangers of Fed policies such as quanti­tative easing and deeply depressed interest rates. But as she puts it, "In a world rendered unsafe by banks that were too big to fail, we came to understand that the Fed was simply too big to fight."

Now DiMartino Booth explains what really happened to our economy after the fateful date of December 8, 2008, when the Federal Open Market Committee approved a grand and unprecedented ex­periment: lowering interest rates to zero and flooding America with easy money. As she feared, millions of individuals, small businesses, and major corporations made rational choices that didn't line up with the Fed's "wealth effect" models. The result: eight years and counting of a sluggish "recovery" that barely feels like a recovery at all.

While easy money has kept Wall Street and the wealthy afloat and thriving, Main Street isn't doing so well. Nearly half of men eighteen to thirty-four live with their parents, the highest level since the end of the Great Depression. Incomes are barely increasing for anyone not in the top ten percent of earners. And for those approaching or already in retirement, extremely low interest rates have caused their savings to stagnate. Millions have been left vulnerable and afraid.
Perhaps worst of all, when the next financial crisis arrives, the Fed will have no tools left for managing the panic that ensues. And then what?

DiMartino Booth pulls no punches in this exposé of the officials who run the Fed and the toxic culture they created. She blends her firsthand experiences with what she's learned from dozens of high-powered market players, reams of financial data, and Fed docu­ments such as transcripts of FOMC meetings.

Whether you've been suspicious of the Fed for decades or barely know anything about it, as DiMartino Booth writes, "Every American must understand this extraordinarily powerful institution and how it affects his or her everyday life, and fight back."
Praise For Fed Up: An Insider's Take on Why the Federal Reserve is Bad for America…
"This view from the inside is not to be missed."
—A. GARY SHILLING, president of A. Gary Shilling & Co., Inc.

"Danielle DiMartino Booth has written an informed, thoughtful, eye-opening—and justifiably angry—memoir of her days at the Federal Reserve. A monetary broadside for our populist world."
—JAMES GRANT, publisher of Grant's Interest Rate Observer

"An outsider-turned-insider gives a gripping account of how false, but stubbornly held beliefs at the Fed helped create the global economic crisis as well as contribute to rising inequality in the United States. Brutally honest and engagingly written . . . A mustread."
—WILLIAM R. WHITE, former economic adviser and head of the monetary and economic department at the Bank for International Settlements

"Penned with bold prose and laced with compelling arguments, Booth delineates the exact reasons that the Fed has failed America and why America should abandon the Fed. Fed Up is a must-read tale of the over-reaching power, unfettered egos and clueless bravado that struck at the core of American stability, and must do so no longer."
—NOMI PRINS, author of All the Presidents' Bankers

"The road to hell is paved with good intentions. [Booth] personalizes and clearly explains the influence, the danger, and the consequences of monetary activism gone wild."
—PETER BOOCKVAR, chief market analyst at The Lindsey Group

"This book is a must read for every American who wants to stay informed and educated about our financial future."
—ALLEN WEST, member of the 112th US Congress

"If you want to read a strong counterpoint—from the perspective of a lonely non-Keynesian within the Fed—to the 'we saved the world' narratives of those who led us to zero yields, asset bubbles, and a fast-shrinking middle class, this is it."
—ROB ARNOTT, chairman of Research Affiliates

"Danielle DiMartino Booth proves that insightful technical analysis and hilarious anecdotes can exist between the covers of the same book."
—JAMES RICKARDS, author of The Road to Ruin

"Booth's insider status, captivating personality, mellifluous writing style, and keen sense of observation are wrapped up into a thoughtful analysis of our country's dependency on the Fed and the worrisome consequences of that addiction."
—DOUGLAS A. KASS, founder and president of Seabreeze Partners Management Inc.

"DiMartino Booth combines a lively writing style with careful research, quotes and annotations. Her first-hand account, which juxtaposes the complacency inside the Fed with the unfolding crisis outside, should appeal to a wide range of readers, from critics of the Fed and market participants to the average person eager to learn how monetary policy is conceived and executed."
–CAROLINE BAUM, MarketWatch
Portfolio, 9780735211650, 336pp.
Publication Date: February 14, 2017
About the Author
Danielle DiMartino Booth is the founder of Money Strong, LLC, an economic consulting firm. She began her career in New York at Donaldson, Lufkin & Jenrette and Credit Suisse, where she worked fixed income and the public and private equity markets. After work­ing as a financial columnist at the Dallas Morning News, DiMartino Booth spent nine years as an adviser to Richard Fisher at the Federal Reserve Bank of Dallas. She lives in Dallas with her family.