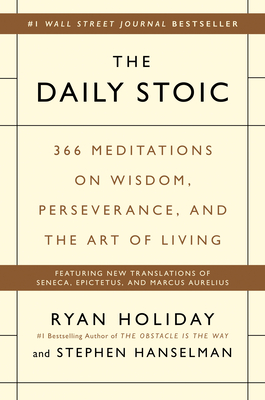 The Daily Stoic (Hardcover)
366 Meditations on Wisdom, Perseverance, and the Art of Living
Portfolio, 9780735211735, 416pp.
Publication Date: October 18, 2016
* Individual store prices may vary.
Description
From the team that brought you The Obstacle Is the Way and Ego Is the Enemy, a beautiful daily devotional of Stoic meditations—an instant Wall Street Journal and USA Today Bestseller.

Why have history's greatest minds—from George Washington to Frederick the Great to Ralph Waldo Emerson, along with today's top performers from Super Bowl-winning football coaches to CEOs and celebrities—embraced the wisdom of the ancient Stoics? Because they realize that the most valuable wisdom is timeless and that philosophy is for living a better life, not a classroom exercise.

The Daily Stoic offers 366 days of Stoic insights and exercises, featuring all-new translations from the Emperor Marcus Aurelius, the playwright Seneca, or slave-turned-philosopher Epictetus, as well as lesser-known luminaries like Zeno, Cleanthes, and Musonius Rufus. Every day of the year you'll find one of their pithy, powerful quotations, as well as historical anecdotes, provocative commentary, and a helpful glossary of Greek terms.

By following these teachings over the course of a year (and, indeed, for years to come) you'll find the serenity, self-knowledge, and resilience you need to live well. 
About the Author
Ryan Holiday is the bestselling author of Trust Me, I'm Lying; The Obstacle Is the Way; Ego Is the Enemy; Conspiracy and other books about marketing, culture, and the human condition. His work has been translated into over thirty languages and has appeared everywhere from the New York Times to Fast Company. His company, Brass Check, has advised brands such as Google, TASER, and Complex, as well as multiplatinum musicians and some of the biggest authors in the world. He lives in Austin, Texas.
 
Stephen Hanselman has worked for more than three decades in publishing as a bookseller, publisher and literary agent. He is a graduate of Harvard Divinity School, where he received a master's degree while also studying extensively in Harvard's philosophy department. He lives with his family in South Orange, New Jersey.
Praise For The Daily Stoic: 366 Meditations on Wisdom, Perseverance, and the Art of Living…
"The Daily Stoic follows up on the success of [The Obstacle Is The Way] by providing a year of quotations and life lessons drawn from the three great Stoic sages."
—The Wall Street Journal

"Whether you're a lowly cubicle slave or a US Senator, this book will help you find your still center."
—Gregory Hays, translator of The Modern Library's edition of Marcus Aurelius' Meditations

"A generous gift of guidance on modern living culled from a canon of wisdom hatched long ago."
—Maria Popova, editor of Brain Pickings

"A richly rewarding spring of practical wisdom to help you focus on what's in your control, eliminate false and limiting beliefs, and take more effective action. Make The Daily Stoic your guide and you will grow in clarity, effectiveness, and serenity each day!" 
—Jack Canfield, co-author of The Success Principles™ and the Chicken Soup for the Soul® series
 
"The Daily Stoic is a treasure for managing our choices, overcoming self-deception, and learning to act according to the true worth of things while keeping the common good always in view. Caring for the soul in this way makes not only better people, but a stronger society too." 
—Joseph A. Maciariello, Professor Emeritus at The Peter F. Drucker and Masatoshi Ito Graduate School of Management; author of The Daily Drucker, The Effective Executive in Action, and A Year with Peter Drucker 

"The Daily Stoic offers all who seek a calm, wise life a daily spiritual anchor. This book will keep you strong across dark times and steady and clear no matter what your circumstances happen to be. Keep this treasure close and it will care for you."
—Sharon Lebell, interpreter of The Art of Living by Epictetus