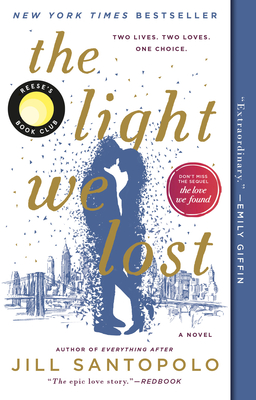 The Light We Lost (Paperback)
G.P. Putnam's Sons, 9780735212763, 368pp.
Publication Date: February 6, 2018
Other Editions of This Title:
Digital Audiobook (5/8/2017)
Hardcover (5/9/2017)
CD-Audio (5/9/2017)
Paperback, Large Print (5/9/2017)
* Individual store prices may vary.
Description
The New York Times bestseller and Reese Witherspoon Book Club pick

"This love story between Lucy & Gabe spans decades and continents as two star-crossed lovers try to return to each other...Will they ever meet again? This book kept me up at night, turning the pages to find out, and the ending did not disappoint."--Reese Witherspoon

"One Day meets Me Before You meets your weekender bag."--The Skimm

"Extraordinary."--Emily Giffin

He was the first person to inspire her, to move her, to truly understand her. Was he meant to be the last?

Lucy is faced with a life-altering choice. But before she can make her decision, she must start her story--their story--at the very beginning.

Lucy and Gabe meet as seniors at Columbia University on a day that changes both of their lives forever. Together, they decide they want their lives to mean something, to matter. When they meet again a year later, it seems fated--perhaps they'll find life's meaning in each other. But then Gabe becomes a photojournalist assigned to the Middle East and Lucy pursues a career in New York. What follows is a thirteen-year journey of dreams, desires, jealousies, betrayals, and, ultimately, of love. Was it fate that brought them together? Is it choice that has kept them away? Their journey takes Lucy and Gabe continents apart, but never out of each other's hearts.

This devastatingly romantic debut novel about the enduring power of first love, with a shocking, unforgettable ending, is Love Story for a new generation.

"It's the epic love story of 2017."--Redbook
About the Author
Jill Santopolo was, herself, a student at Columbia University on September 11, 2001. Since then she has received an MFA in fiction writing and made a name for herself in the world of children's and young adult literature. Her two Alec Flint mysteries, published by Scholastic, have sold more than 100,000 copies, her Sparkle Spa series, published by Simon & Schuster, was extended from a four-book to a ten-book series, and her Follow Your Heart books, a duet of choose-your-own-romance novels were highly praised. Jill is also the Editorial Director of Philomel Books and an adjunct professor in The New School's MFA program and has traveled across the U.S.--and to Canada and Europe--to speak about writing and storytelling.
Praise For The Light We Lost…
"It's the epic love story of 2017 and the ending is one you'll be feeling for months to come."—Redbook

"An irresistible tale of love and second chances."—People 

"Extraordinary."—Emily Giffin

"This moving story is a perfect understanding of the sacrifices we make for love and for our dreams."—Real Simple

"Your new tearjerker has arrived: Fans of Me Before You and One Day will love/weep over this elegant novel."—New York Post

"This read is One Day meets Me Before You meets your weekender bag."—The Skimm 

"Have your tissues ready...This book will sink its hooks into your heart on page one, and leave you scarred long after you're done."—Bustle

"Enchanted and compelled me."—Delia Ephron, author of Siracusa

"A wonderful and heartbreaking book....The kind of heartbreak that's in The Way We Were, that you really love to cry over."—NBC New York's Weekend Today

"Heart-wrenching yet beautiful."—US Weekly

"A beautiful and devastating story that will captivate readers."—Kirkus Reviews (starred review)

"Comparisons will be made to David Nicholls' One Day, but there is something more romantic here—yet also more grounded—that will draw readers in."—Booklist
 
"Gorgeously written and absolutely unforgettable, Santopolo's novel has a beating heart all its own."—Caroline Leavitt, author of Pictures of You

"Santopolo vividly illuminates how our personal lives and loves are changed by the common—and uncommon—events of our troubled world."—Nancy Thayer, author of The Island House

"The perfect beach read: an engrossing, romantic, and surprisingly sexy story about the power of first love."—Domino

"Santopolo nailed the thrill and devastation that love can cause...This book made me feel everything!"—Renée Carlino, author of Before We Were Strangers

"Evocative, raw and at times breathlessly heartbreaking...Santopolo leaves us wondering about serendipity and the existence of that one, true love."—Karma Brown, author of Come Away with Me

"A beautiful, moving meditation on the choices we make in pursuit of love and a meaningful life, and the consequences that shape our futures."—Bethany Chase, author of The One That Got Away

"Filled with light and hope, this is the romance we're all looking for."—Brenda Bowen, author of Enchanted August

"I predict a global tissue shortage."—Sarah Morgan, author of Miracle on 5th Avenue

"A remarkable love story that enthralled me, surprised me, and ultimately, moved me."—Thomas Christopher Greene, author of If I Forget You

"Gracefully and tragically charts the course not only of a genuine and deep love, but also that of our country and of our collective identities. It is memorable and haunting, because it is authentic and so close to home."—Nick Schifrin, PBS NewsHour Special Correspondent, NPR Correspondent