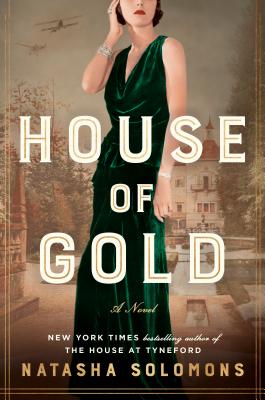 House of Gold (Hardcover)
G.P. Putnam's Sons, 9780735212978, 448pp.
Publication Date: October 23, 2018
* Individual store prices may vary.
Description
From the New York Times bestselling author of The House at Tyneford, an epic family saga about a headstrong Austrian heiress who will be forced to choose between the family she's made and the family that made her at the outbreak of World War I.

The start of a war. The end of a dynasty.

Vienna, 1911. Greta Goldbaum has always dreamed of being free to choose her own life's path, but the Goldbaum family, one of the wealthiest in the world, has different expectations. United across Europe, Goldbaum men are bankers, while Goldbaum women marry Goldbaum men to produce Goldbaum children. Jewish and perpetual outsiders, they know that though power lies in wealth, strength lies in family.

So Greta moves to England to wed Albert, a distant cousin. Defiant and lonely, she longs for connection and a place to call her own. When Albert's mother gives Greta a garden, things begin to change. Perhaps she and Albert will find a way to each other.

But just as she begins to taste an unexpected happiness, war is looming and even the influential Goldaums can't alter its course. For the first time in two hundred years, the family will find themselves on opposing sides and Greta will have to choose: the family she's created or the one she was forced to leave behind.

A sweeping family saga from a beloved and New York Times bestselling author, House of Gold is Natasha Solomons's most dazzling and moving novel yet.
About the Author
A screenwriter and novelist, Natasha Solomons lives in Dorset, England, with her husband and two children. She is the New York Times bestselling author of four novels, including The House at Tyneford and The Song of Hartgrove Hall.
Praise For House of Gold…
"A delicious family saga." —New York Post

"Sweeping....Filled with rich period detail, vivid characterization, and heartfelt emotion, this meticulously researched novel is highly recommended for fans of historical fiction."—Library Journal (starred review)

"The past comes alive in this beautifully written novel. . . A dazzling saga rich in detail and drama." —Woman's World

"Once again, Natasha Solomons brings the past alive with vivid immediacy. House of Gold is a sweeping, heartbreaking story of love, war, and duty. I will long remember the poetry of its evocative details and the striking complexity of its characters."—Lauren Belfer, New York Times bestselling author of And After the Fire, recipient of the National Jewish Book Award

"Solomons is one of the best writers of historical fiction working today. Family dynasties, European politics, old war estates, love affairs, worlds on the brink of change: Solomons knows how to draw readers into a particular place and time. And once you're there, you just don't want to leave." —Goop

"A sweeping epic." —Refinery29

"A beautifully told narrative . . . A poignant, heartbreaking tale of love [and] duty." —Gulf Coast Today

"Engrossing...In Solomons's skillful hands, the plot winds around Europe and blossoms into a poignant portrait of characters stuck in an unavoidable paroxysm of global change."—Publishers Weekly

"Sweeping and intimate....A poignant, beautifully written story of love and duty."—Booklist

"An achingly detailed yet sweeping narrative....A rewarding look into the fragility of power and the complexities of Jewish identity in the early 20th century. An absorbing saga."—Kirkus Reviews

"An absorbing family saga...The characters are rounded and well-developed, and Greta Goldbaum is a spirited and appealing creation."—Historical Novels Review