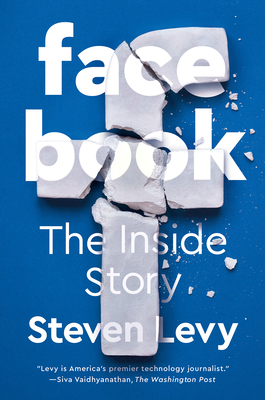 Facebook
The Inside Story
Hardcover

* Individual store prices may vary.
Other Editions of This Title:
Digital Audiobook (2/24/2020)
Paperback (2/2/2021)
Description
One of the Best Technology Books of 2020—Financial Times

"Levy's all-access Facebook reflects the reputational swan dive of its subject. . . . The result is evenhanded and devastating."—San Francisco Chronicle

"[Levy's] evenhanded conclusions are still damning."—Reason

"[He] doesn't shy from asking the tough questions."—The Washington Post

"Reminds you the HBO show Silicon Valley did not have to reach far for its satire."—NPR.org
 
The definitive history, packed with untold stories, of one of America's most controversial and powerful companies: Facebook

As a college sophomore, Mark Zuckerberg created a simple website to serve as a campus social network.
 
Today, Facebook is nearly unrecognizable from its first, modest iteration. In light of recent controversies surrounding election-influencing "fake news" accounts, the handling of its users' personal data, and growing discontent with the actions of its founder and CEO—who has enormous power over what the world sees and says—never has a company been more central to the national conversation.
 
Millions of words have been written about Facebook, but no one has told the complete story, documenting its ascendancy and missteps. There is no denying the power and omnipresence of Facebook in American daily life, or the imperative of this book to document the unchecked power and shocking techniques of the company, from growing at all costs to outmaneuvering its biggest rivals to acquire WhatsApp and Instagram, to developing a platform so addictive even some of its own are now beginning to realize its dangers.

Based on hundreds of interviews from inside and outside Facebook, Levy's sweeping narrative of incredible entrepreneurial success and failure digs deep into the whole story of the company that has changed the world and reaped the consequences.
Praise For Facebook: The Inside Story…
One of the Best Technology Books of 2020—Financial Times

Praise for Facebook
"Steven Levy is the founding guru of technology journalism. Few other writers can harness both access to top figures and critical insight informed by decades of reporting on Silicon Valley. His Facebook book will be a blockbuster, a penetrating account of the momentous consequences of a reckless young company with the power to change the world."—Brad Stone, author of The Everything Store and The Upstarts

"Exhaustive and well-paced history of the tech giant . . . Levy's narrative is richly detailed, thanks to interviews with Facebookers past and present. . . . Levy's account of Zuckerberg's abbreviated Harvard tenure and Facebook's early years feels fresh, with plenty of color that reminds you the HBO show Silicon Valley did not have to reach far for its satire."—NPR.org

"Comprehensive and captivating history."—The Wall Street Journal

"Levy writes with verve . . . [he] is able to trace the origins of the Cambridge Analytica scheme to Facebook's disregard for the privacy concerns of the first users. . . . In discussing the development of the News Feed and advertising, Levy foreshadows the future misuse by rogue actors, including Russia's Internet Research Agency, the group charged by Special Counsel Robert Mueller with interfering in the election. . . . [He] doesn't shy from asking the tough questions."—The Washington Post

"The social-media behemoth Facebook comes across as an idealistic but also shady, exploitative, and increasingly beleaguered entity in this clear-eyed history. . . . Levy had extensive access to Facebook employees and paints a revealing and highly critical portrait of the company as it wrangled with charges that it violated users' privacy by sharing their data with advertisers and political operatives, and served as a vector for manipulative fake news, pro-Trump Russian propaganda, and hate speech."—Publishers Weekly

"Steven Levy's all-access Facebook reflects the reputational swan dive of its subject. Levy is the dean of tech writers; Facebook's brass gave him the run of the C-suite. The result is evenhanded and devastating."—San Francisco Chronicle

"Fresh, up-to-date, and insider-ish."—The Economist

"Respected tech writer Levy (In the Plex, 2011) presents the definitive story of Facebook. . . . Given unfettered access to Zuckerberg and the company during the last three years, Levy is able to illustrate how the company developed under the influence of Zuckerberg's acknowledged hypercompetitiveness. . . . This absorbing book will inspire important conversations about big tech and privacy in the twenty-first century."—Booklist

"The value of this book lies in its putting together all the pieces of Facebook's privacy troubles, algorithms, and the Cambridge Analytica affair."—Library Journal

"Steven Levy, who reported [on Facebook] over three years, is one of the best writers about tech, period. His access—through the company and around it—is impressive."—The Information, February Book Club Pick

"I highly recommend this . . . It is probably the best read on a high-tech big wig that is changing history that I've read in a long, long, long time. I heartily and highly recommend it. Bring some popcorn with you when you read it."—Neil Cavuto on Cavuto: Coast to Coast

"[Levy] consistently demonstrates how he's driven by the facts rather than by any philosophical or political agenda. And that's exactly why, once Levy has layered on so many new facts about Facebook, its principals, and its various lapses and betrayals, piling on the details from hundreds of interviews, putting all the pieces of every part of Facebook's story into one place, his most evenhanded conclusions are still damning. . . . What all Facebook's critics, and the tech industry's critics, will have in common is this: Going forward, we all will be citing stuff we learned from Levy's Facebook: The Inside Story."—Reason

"Levy portrays a tech company where no one is taking responsibility for what it has unleashed. . . . The book closes with a recognition that Facebook is bulldozing ahead with new innovations—from Facebook dating to its Libra digital currency project—while Zuckerberg continues to shrug off any ethical queries about his past behavior."—Financial Times

"In Facebook: The Inside Story, Levy turns his massively insightful gaze to the trajectory of Facebook from its birth, its dizzying growth, and its embattled present, when its reputation is extensively scarred. . . . All in all, Levy capably takes us into FB's office, and into the mind-sets of its engineers. He does so in a brilliantly readable narrative. Indeed, Levy's expertise at narrative nonfiction—the use of scenes, dialogue, and other techniques, to create a story on the page—is ample, and it shows in the smooth and pacy flow of this book; as does his ability to go beyond bits, bytes, and balance-sheets to map the mind-spaces of the techies behind Facebook, their ambitions, creative impulses, greed, and desire to succeed. . . . One of the (numerous) merits of reading this book: it makes you think about how your online self and networks are sculpted, at least in part, by people sitting continents away, in what ways, how the online self is grafted onto the flesh-and-blood one, and how the online self is manipulated, tweaked, even exploited. Take a bow, Steven Levy."—MoneyControl.com

"Wired editor Steven Levy uses tales from Zuckerberg's early life, pages from his handwritten journals, and encounters with company execs to add texture and color to the familiar Facebook origin story. He creates an intimate portrait of Zuckerberg's competitive nature and goals and how they have informed the company's zealous pursuit of growth over the last decade. It's a timely probe into the tech company's motivations around data privacy, disinformation, and corporate responsibility."—Mashable

"Steven Levy charts the novelty, the thrusting, and the hubris of Facebook, which in many ways reflects the personality of its still wholly dominant founder. He presents some extraordinary facts in a racy and riveting mainly chronological narrative."—The Critic
Blue Rider Press, 9780735213159, 592pp.
Publication Date: February 25, 2020
About the Author
Steven Levy is Wired's editor at large. The Washington Post has called him "America's premier technology journalist." His previous positions include founder of Backchannel and chief technology writer and senior editor for Newsweek. Levy has written seven previous books, and his work has appeared in Rolling Stone, Harper's Magazine, Macworld, The New York Times Magazine, Esquire, The New Yorker, and Premiere. Levy has also won several awards during his thirty-plus years of writing about technology, including for his book Hackers, which PC Magazine named the best sci-tech book written in the past twenty years; and for Crypto, which won the grand e-book prize at the 2001 Frankfurt Book Fair.
Coverage from NPR
or
Not Currently Available for Direct Purchase