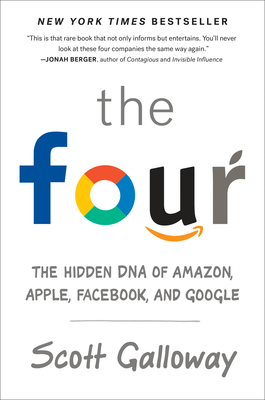 The Four
The Hidden DNA of Amazon, Apple, Facebook, and Google
Hardcover

* Individual store prices may vary.
Other Editions of This Title:
Digital Audiobook (10/2/2017)
Paperback (9/4/2018)
Paperback, Large Print (10/3/2017)
Paperback, Chinese (8/29/2018)
Description
NEW YORK TIMES BESTSELLER
USA TODAY BESTSELLER

Amazon, Apple, Facebook, and Google are the four most influential companies on the planet. Just about everyone thinks they know how they got there. Just about everyone is wrong. 

For all that's been written about the Four over the last two decades, no one has captured their power and staggering success as insightfully as Scott Galloway.

Instead of buying the myths these compa­nies broadcast, Galloway asks fundamental questions. How did the Four infiltrate our lives so completely that they're almost impossible to avoid (or boycott)? Why does the stock market forgive them for sins that would destroy other firms? And as they race to become the world's first trillion-dollar company, can anyone chal­lenge them?

In the same irreverent style that has made him one of the world's most celebrated business professors, Galloway deconstructs the strategies of the Four that lurk beneath their shiny veneers. He shows how they manipulate the fundamental emotional needs that have driven us since our ancestors lived in caves, at a speed and scope others can't match. And he reveals how you can apply the lessons of their ascent to your own business or career.

Whether you want to compete with them, do business with them, or simply live in the world they dominate, you need to understand the Four.
Praise For The Four: The Hidden DNA of Amazon, Apple, Facebook, and Google…
"An existential alarm bell wrapped in a business lesson wrapped in an entertaining and often hilarious (and, yes, occasionally blue-languaged) series of stories built with great writing. It keeps you entertained to make sure you're informed." – 800-CEO-READ

"Galloway takes the reader through a refreshingly clear-eyed look at the nature of dominance at Amazon.com Inc., Apple Inc., Facebook Inc. and Google. He is interested in how these companies become more valuable with use instead of less, how they benefit from low cost of capital and the implications for things [that] could further strengthen their dominance." —Brad Stone, Bloomberg Technology 

"As the power of technology's biggest companies comes under more scrutiny, NYU business professor Galloway reveals how Amazon, Apple, Facebook, and Google built massive empires." —Publishers Weekly, "The Top 10 Business Books of Fall 2017"

"This is that rare book that not only informs but entertains. You'll never look at these four companies the same way again." - Jonah Berger, author of Contagious

"Scott Galloway is honest, outrageous, and provocative. This book will trigger your flight-or-fight nervous system like no other and in doing so challenge you to truly think differently." —Calvin McDonald, CEO of Sephora

"The Four is an essential, wide-ranging powerhouse of a book that, like Scott Gal­loway himself, marries equal parts incisive, entertaining, and biting. As in his leg­endary MBA lectures, Galloway tells it like it is, sparing no business titan and no juggernaut corporation from well-deserved criticism. A must read." —Adam Alter, author of Drunk Tank Pink   

"If there is a blunter, more opinionated, faster-talking expert on the Internet than Scott Galloway, I haven't come across him. Or her." —Philip Elmer-DeWitt, Fortune

"Scott Galloway's The Four is a bareback ride upon the four horses of the economic apocalypse – Apple, Amazon, Facebook and Google. It is a timely exposition of the nature and concentration of power in the world today and, as a result, is much more than just a business book…The book contains more insights and provocative ideas than Amazon has Boeing 767s… My recommendation is to walk down to your local book store and buy this – or more likely, buy it on Amazon."
Tom Upchurch, Wired

Portfolio, 9780735213654, 320pp.
Publication Date: October 3, 2017
About the Author
Scott Galloway is a professor at New York University's Stern School of Business, where he teaches brand strategy and digital marketing to second-year MBA students. A serial entre­preneur, he has founded nine firms, including L2, Red Envelope, and Prophet. In 2012, he was named one of the "World's 50 Best Busi­ness School Professors" by Poets & Quants. His weekly YouTube series, "Winners and Losers," has generated tens of millions of views. This is his first book.