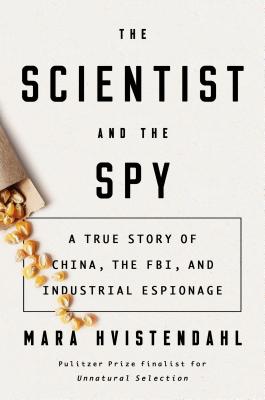 The Scientist and the Spy
A True Story of China, the FBI, and Industrial Espionage
Hardcover

* Individual store prices may vary.
Other Editions of This Title:
Digital Audiobook (2/3/2020)
Paperback (2/2/2021)
Description
A riveting true story of industrial espionage in which a Chinese-born scientist is pursued by the U.S. government for trying to steal trade secrets, by a finalist for the Pulitzer Prize in nonfiction.
 
In September 2011, sheriff's deputies in Iowa encountered three ethnic Chinese men near a field where a farmer was growing corn seed under contract with Monsanto. What began as a simple trespassing inquiry mushroomed into a two-year FBI operation in which investigators bugged the men's rental cars, used a warrant intended for foreign terrorists and spies, and flew surveillance planes over corn country—all in the name of protecting trade secrets of corporate giants Monsanto and DuPont Pioneer. In The Scientist and the Spy, Hvistendahl gives a gripping account of this unusually far-reaching investigation, which pitted a veteran FBI special agent against Florida resident Robert Mo, who after his academic career foundered took a questionable job with the Chinese agricultural company DBN—and became a pawn in a global rivalry.

Industrial espionage by Chinese companies lies beneath the United States' recent trade war with China, and it is one of the top counterintelligence targets of the FBI. But a decade of efforts to stem the problem have been largely ineffective. Through previously unreleased FBI files and her reporting from across the United States and China, Hvistendahl describes a long history of shoddy counterintelligence on China, much of it tinged with racism, and questions the role that corporate influence plays in trade secrets theft cases brought by the U.S. government. The Scientist and the Spy is both an important exploration of the issues at stake and a compelling, involving read.
Praise For The Scientist and the Spy: A True Story of China, the FBI, and Industrial Espionage…
"A nuanced look at some of the pawns in the U.S.-China rivalry … through her reporting in China and the United States, Hvistendahl recounts the case with the vivid details and pace of a spy thriller." —Foreign Policy

"A compelling whodunit. . . [A] captivating and well-researched book." —The Wall Street Journal
 
"Mara Hvistendahl's compelling account of the drama reads in parts like a spy thriller, replete with car chases, phone-tapping and aerial surveillance as agents track the shovel-carrying suspects across America." —The Economist
 
"If there is a subplot that makes this book essential reading, especially for those working in the sciences today, it is Hvistendahl's documentation of the disturbing effects that the too-vigorous pursuit of industrial spies has had on Chinese scientists and engineers in the United States." —Science
 
"A riveting whodunit." —The Washington Post
 
"[A] fascinating story, which speaks to the larger geopolitical tensions shaping our time." —Bookpage
 
"A true-crime thriller about a Chinese-born scientist's agricultural espionage." –Men's Journal
 
"[A] compelling tale of industrial espionage. . . This engaging book has something for everyone; it can be read as a spy thriller, an examination of U.S.-China relations, or a case study of agricultural espionage." —Library Journal

"[A] fascinating and well-researched study. . . . Those looking for insights into the current tensions with China will be rewarded." —Publishers Weekly (starred review)

"Not since Alfred Hitchcock's North by Northwest has a cornfield produced so much excitement. . . . Hvistendahl makes industrial espionage both understandable and riveting. . . . This is a complex story, but it's presented clearly and vividly, thanks to Hvistendahl's background as a science journalist here and in China; to her exquisite pacing; and to her narrative skills . . . Hard to put down and harder to stop thinking about." —Booklist (starred review)

"Before there was a trade war, there was industrial espionage. To understand today's fight between the United States and China, you need to understand the seeds of the conflict, and this book is on the money. A nonfiction thriller for our times." —Ian Bremmer, author of Us Vs. Them: The Failure of Globalism 

"The Scientist and the Spy is as compulsively readable as espionage thriller and as darkly troubling as any morality tale. Told with empathy, insight, and remarkable detail, the book shines a clear light on the increasingly relentless federal investigation, its Chinese targets, and the powerful government and business interests that drive the story to its fascinating conclusion." —Deborah Blum, author of The Poison Squad: One Chemist's Single-Minded Quest for Food Safety at the Turn of the Twentieth Century



Riverhead Books, 9780735214286, 336pp.
Publication Date: February 4, 2020
About the Author
Mara Hvistendahl covered China's renaissance in science and technology as a correspondent in Shanghai for Science. She has also written for The Atlantic, Popular Science, WIRED, and other publications. She is the author of Unnatural Selection: Choosing Boys Over Girls, and the Consequences of a World Full of Men, which was a finalist for the Pulitzer Prize for Nonfiction and the Los Angeles Times Book Prize. A proficient Mandarin speaker and former National Fellow at New America, she lived in China for eight years and now resides in Minneapolis with her family.
or
Not Currently Available for Direct Purchase